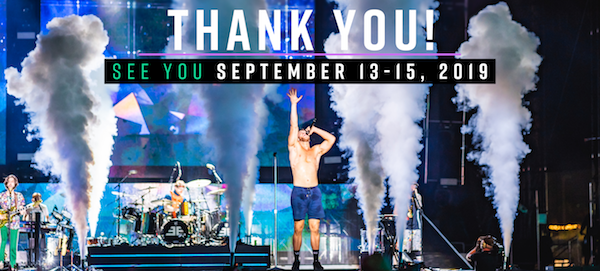 KAABOO 2018 Recap – Simply The BEST!
By Bob Dietrich
There have now been 4 KAABOO events, and I have to say that KAABOO 2018 was the best one yet.
This festival that began in 2015 started with headliners like No Doubt, The Killers and the Zack Brown Band. 2016 Included headliners like Aerosmith, Fall Out Boy, and Jimmy Buffett. KAABOO really stepped up their game in 2017 by offering headliners such as The Red Hot Chili Peppers, Pink, and Tom Petty, which turned out to be one of his last performances. That is a tough line up to top, but somehow KAABOO 2018 did it.
The 2018 KAABOO Festival listed as headliners the Foo Fighters, Imagine Dragons, Robert Plant and Katy Perry. This turned out to be the best lineup yet, sorry Tom Petty RIP. I think part of the consistent success of KAABOO is because the festival has had continued improvement, they are very organized, and they don't oversell their even, so it's seemingly less crowded. If I were to guess, I would say KAABOO has reduce the number of attendees in order to create a more pleasant festival experience. In any case, the immaculate Del Mar Fairgrounds provides the perfect backdrop for a beach-side festival, and KAABOO has seized the opportunity by creating an amazing experience.
Additionally, this festival is unlike other festivals, which can be filled with drugs and people who are just totally wasted. Instead, KAABOO seems to be a bit more family friendly, and there seems to be more people interested in having fun and appreciating the music. KAABOO is not Coachella on the beach. It's not filled with drunks and dust. KAABOO is it's own thing, and it's awesome.
A festival on the beach is my dream festival, which makes Del Mar a spectacular location for an event like this. KAABOO even includes a portable swimming pool with cabanas, which they call BASK, and it's an amazing way to spend your time listening to bands like The All-American Rejects and Alice In Chains, while playing volleyball in the pool.
Additionally, KAABOO focuses on three different entertainment genres: Music, comedy, and food. There's so much you can to do here you just can't do it it all, so I will just cover music for now.
First, let me start by saying they had three primary stages: the Trestles, the Grandview, and my personal favorite, the main stage, Sunset Cliffs (because I grew up in Point Loma). The also had an area called Tourmaline that KAABOO seemed to use for DJs and hip events.
Now, one problem with KAABOO, and it's a good problem to have, is that they have too many bands and you can't see them all. So I had to miss several bands I really wanted to see, so I will have to catch them later.
Here's a break down all three days so you can get a flavor of the KAABOO experience:
Friday
Kicking things off on Friday was the 90s band Everclear. Other bands that played on Friday included The English Beat, Nelly, The Zombies, Tower of Power, Halsey, Blondie, Jimmy Eat World, Incubus, Post Malone, and The Foo Fighters, to name just a few.
I got there late on Friday, about 3 PM, and enjoyed a few cocktails by the pool while watching Nelly and Incubus at Grandview. Then I headed over to check out the Foo Fighters at the Sunset Cliffs stage. It was definitely a slow start for me.
Of course the Foo Fighters performed a wonderful show. High-energy, familiar songs, and a huge smoky crowd made for an electric evening. We ended the evening with a silent disco in the Tourmaline area of the venue. Friday night. Check!
Saturday had a solid lineup featuring Soul Asylum, Better Than Ezra, The Wailers, Stone Temple Pilots, Melissa Ethridge, Billy Idol, Cake, Earth Wind and Fire, and Imagine Dragons, and many more.
The Stone Temple Pilots were impressive as their new lead singer was a solid replacement for Scott Weiland died about a year ago.
Cake performed the on the Trestles stage, and I have to say every time I have seen this band they have disappointed. Either technical difficulties, rude comments from the lead singer, or just a plain uninspiring performance by the band, which is what I experience this time.
Billy Idol and Imagine Dragons were fantastic. For about seven years old, Billy Idol really brings the energy to his show, and Imagine Dragons was unexpectedly just plain fun to watch. The Surprised of the evening (for me) was how awesome Earth, Wind and Fire was. These guys are professionals, and even after all these years, and the death of their lead singer, there guys were fantastic!
Sunday turned out to be my favorite day, as Katy Perry headline KAABOO. That day open the with TLC, The All-American Rejects, Candlebox, Slash, War, Alice in Chains, Jewel, Robert Plant, Katy Perry, and many more.
Katy Perry performed a fantastic show. The visuals, combined with her stage presence, made for a phenomenal show. You can tell Katy Perry has become a world-class performer, and it's definitely a show you don't want to miss.
For me, the biggest surprise of the night was Robert Plant. My expectation was low because Robert Plant is getting older, and I thought his voice would suffer as so many lead singers before him have fallen. Also, I have seen him before and he only played about three Led Zeppelin songs at that time. So I expected him to only play a few Zepplin songs, but I was pleasantly surprised when Led Zeppelin songs dominated his set list, and his voice was so reminiscent of his original music.
San Diego offers so many things to do during the summer, and in my opinion KAABOO is best (sorry Comic Con). Every year KAABOO improves, and it has now become one of the premier festivals in the US, and in the world. Great job to the producers, and staff for creating such an amazing experience.
I can't wait for next year!