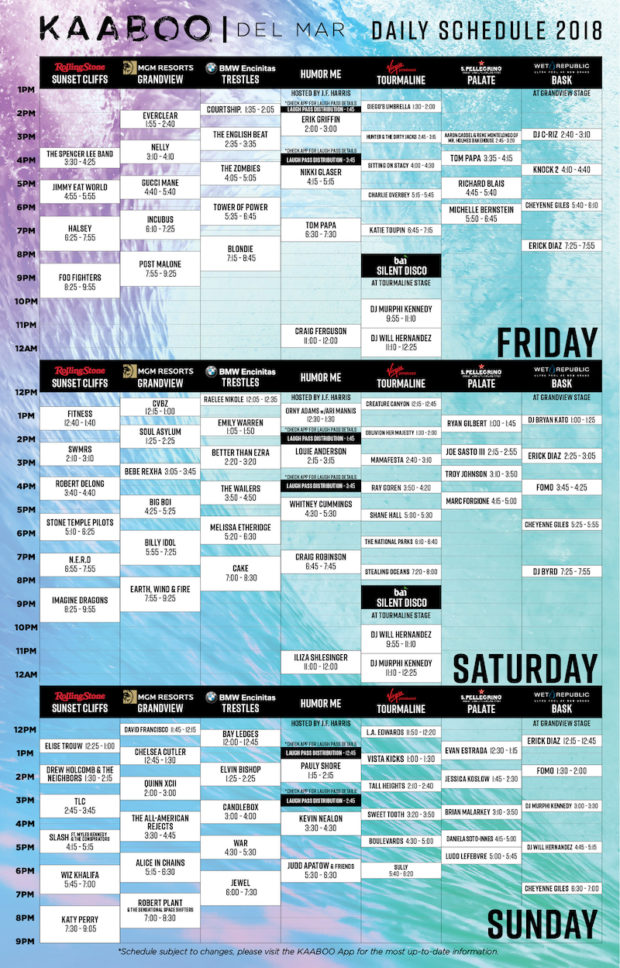 KAABOO Del Mar Takes Center Stage
By Bob Dietrich
Every year in mid-September Southern California's best music festival, Kaaboo Del Mar, comes to San Diego.
This year Kaaboo again as an all star lined up. Here's a preview by day of performance:
Friday, September 14:
The Foo Fighters headline the first night of Kaaboo. What a start to a great weekend. The Foo Fighters are one of the most influential rock bands still playing today and producing new music. The Foo Fighters are always a good show. So don't miss Dave Grohl and the boys on the beach in Del Mar. Also playing on Friday are Everclear, The English Beat, Jimmy Eat World, Incubus, and Blondie. Blondie to name a few. The Daily Dilemma to miss Blondie in order to get in good position for Foo Fighters, and see Blondie and get back row for Foo Fighters. In the 1980s, Blondie took America by storm and was one of the first bands to introduce new wave music to the rock 'n' roll scene. Friday is going to be a great opening day for Kaaboo. If you had to go for one day, this just might be it.
On Saturday, Kaaboo highlights some super cool 90's bands like Better than Ezra, Melissa Etheridge, Cake and Stone Temple Pilots. Also, 80's phenom Billy Idol rocks out on Saturday as well. Although he's old as hell now, he sounds like 1986 all over again. For the super old-timers, Earth Wind and Fire will be the headliner, and for the younger crowd, Imagine Dragons will take the main stage. Saturday will definitely have something for everyone.
Sunday has a very interesting lineup that you just might enjoy. First, here's an interesting note; Candlebox takes the same stage is Jewel. Is that even legal? LOL. Also sharing the stage together will be Alice in chains, All American Rejects and Robert Plant. On the main stage will be TLC, Slash, and Katy Perry. Last hair Pink tip the main stage and stole the show. It will be interesting to see if Katy Perry does the same thing on Sunday night.
Don't miss this year is Kaaboo. There will be plenty of food, fun, music and comedy for everyone.