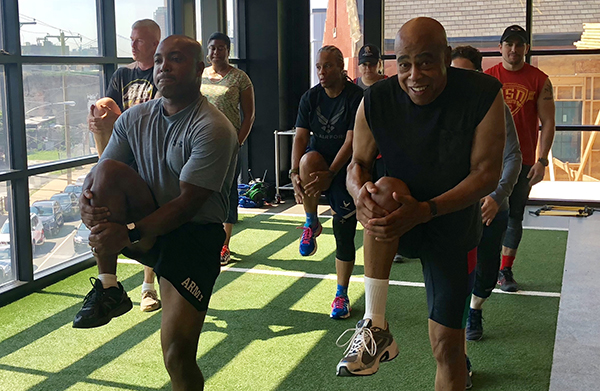 Wounded Warrior Project's Wellness Coaching: Many Paths to Health
By Tracy Farrell – Engagement and Physical Health & Wellness Vice President, Wounded Warrior Project
WWP's wellness coaching is:
1. Free to warriors 
2. Adapted to fit individual needs
3. A chance to bond with other warriors at kick-off health clinic
4. Personalized via one-on-one coaching calls
5. Long-term and consistent over 12 weeks
It all started with a ride on a pontoon boat, but warrior Rachelle Dygowski got more than she expected. A Wounded Warrior Project® (WWP) event in Tallahassee, Florida, was her introduction to the vast resources available to warriors at no cost to them.
After attending that event, Rachelle found the camaraderie and support she needed to begin a journey of healing her body and mind. With help from WWP's wellness coaching program, Rachelle got the tools to make lasting changes in her health.
"I found people at Wounded Warrior Project who aren't just there for weight loss, but for my whole well-being," Rachelle said. "Whenever I needed something that was either for fitness, nutrition, or mental health, my personal coach was able to get me the help I needed."
Rachelle tapped into the resources of WWP's wellness coaching program, which is designed to address the needs of warriors. It begins with a request from a warrior, followed by a weekend health clinic, and then one-on-one coaching sessions via phone.
Rachelle had started doing taekwondo a year ago, in part looking for the discipline she missed since her time in the Navy. "I weighed 276 pounds and felt there is no way I am going to be able to do this," Rachelle said. She had a hurt knee among other physical challenges, but she made a decision to take control of her health.
"I started to feel like I needed something to give me a boost," Rachelle said. She heard about an upcoming health clinic through WWP's email newsletter. "I went to the health clinic wanting to learn new things and get myself pumped up again. I learned to use the suspension training equipment in a modified way to protect my knee. All the people involved were eager to help each one of us without judgment."
Rachelle took it all in. She made time to practice what she learned when she returned home. The health clinic exposes warriors to lifestyle changes in fitness and nutrition. They get to see what is possible when they dedicate themselves to their well-being.
WWP wellness coaches give each warrior a scale, TRX (suspension equipment) instruction, elastic bands, and other equipment to help them continue exercising at home. No gym membership is required. The most important ingredients each warrior contributes are a commitment to attending a weekend health clinic, and a resolve to stick with a 12-week coaching program afterward. Warriors receive a 30-minute phone call from their personal coach every other week.
"I asked my coach to please continue checking on me, and she has," Rachelle said. "She has been there for me every step of the way. 
"When I looked at the challenges I faced, my first thought was, 'I don't want to let her down,'" Rachelle said. "That turned into not wanting to let myself down. Each time I spoke with my coach, I knew she was doing this for me. It was a motivating factor in my losing 17 pounds over the course of 12 weeks. She gave me the tools to take care of me and to keep me motivated."
During the initial health clinic, warriors set attainable goals in three areas: nutrition, fitness, and lifestyle. The follow-up coaching phone calls focus on how to reach those goals. It's about the unique needs of each individual warrior. The coaching is adaptable to each warrior to ensure they can progress toward a healthier life through education and support.
Individual Attention at No Cost (Yes, It's Free to Warriors)
For Jared Hansen, a Marine veteran who lives in Utah, the health clinic was the beginning of a life-changing experience.
Like most people, Jared is skeptical of too-good-to-be-true deals. Naturally, the question of cost came up.
"Going down to a health clinic in Phoenix, Arizona, and learning the basics of health and nutrition has essentially changed my perspective on eating," Jared said. To be honest, I was completely skeptical of going to Phoenix. During the event, I was waiting for them to say, 'Now that we have given you all the tools it only costs $300 a month to continue this awesome program.' But that never came, and for once, I realized that I was prepared to get a hold of my diet."
"Starting off, I weighed 263 pounds when I was first weighed in Phoenix," Jared said. "I've lost 40 pounds, and I'm still losing weight slowly but surely."
"I have traumatic brain injury and a low back injury," Jared said. "Doing rigorous workouts are not that easy for me. So, stretching and walking are my primary outlets for exercise.
"My preconceived beliefs when it came to food were holding me back. I learned so much that it completely changed my views on food. My goals went from focusing on my exercise routine, to what I put into my body – and learning what works for me when it comes to my diet."
"Wounded Warrior Project's wellness coaching program taught me that I can take charge of my life, even when other things are affecting my health. My coach gave me the knowledge and tools to get back where I wanted to be. Another good thing was that the program is realistic and honest about your health and weight loss. Never once did they offer quick fixes or products, just information and suggestions for us to try. 
So, when my progress slowed, or I gained weight, I did not panic because I knew that it was normal. Without this program and my coach, I would be terrified to imagine where I would be health-wise." 
Body AND Mind Improvement
Cory Begley is an active National Guard reservist who lives in Sioux Falls, South Dakota. He and his wife have three children who are 10, 7 and 2. For him, finding time, motivation, and learning new skills provided the additional benefits of reducing chronic pain and anxiety.
"You've got to be at that place where you want things to change," Cory added. "For me, it was about moving things forward, so I can live healthy for my wife and children. They're supporting and motivating me."
Preparing meals for the family can be a challenge for parents who are trying to watch their weight. Cory has incorporated portion control to his routine, eating the same food the kids eat, but controlling portions in color-coded measuring cups provided at the WWP health clinic.
He also uses tools learned during the health clinic to practice TRX exercises with the help of a booklet and a mobile app.
His back pain has become more manageable since he started the program. "At the beginning, the pain was limiting, but I've used the system they showed us for modifying exercises, and it's pretty much pain-free," Cory said. 
"The lifestyle change has been helpful for my back," Cory said. "It's also helped my post-traumatic stress disorder and anxiety. Just seeing the progress so far, including the fact that I'm only eight pounds away from my weight loss goal before I finish the program – and already dropped a pant size – is motivating. Seeing those results makes me want to strive more."
Accessible and Individualized
WWP wellness coaches are dedicated to changing people's lives. Over 75 percent of WWP wellness coaches have a master's degree in a health and wellness field such as exercise science, kinesiology, or nutrition. They have at least three years of professional experience. Wounded warriors are in good hands and receive quality services.
The overall effects of physical wellness cannot be understated. It can lead to improvements in sleep, mobility, and mood while decreasing pain, medication use, and the prevalence of major diseases, including heart disease, diabetes, and cancer.  
Post-traumatic stress disorder and traumatic brain injury have a strong effect on both mental and physical health. Improving physical health can have immediate impacts on sleep and mood – and eventually body composition and disease prevention. The WWP wellness coaching program was developed with this knowledge in mind. It has shown tremendous value for warriors in their mental and physical journeys as well as additional gains in confidence, relationship quality, and family life.
The program is accessible to those expressing need, and it's individualized through goal-based one-on-one coaching.
Warriors, and their families, are beginning to understand the links between physical and mental well-being. WWP strives to provide services in both physical and mental health to help warriors thrive in their families and communities.
The coaching program is for any warrior who wants to improve their quality of life, fitness level, mood, body composition, or general well-being. The people who benefit the most are open-minded, motivated, and dedicated to the 90-day process – they're not looking for a quick fix.
About the Author
As vice president of engagement and physical health & wellness for WWP, Tracy Farrell develops and oversees programs designed to improve connections, reduce stress, relieve depression, and promote a healthy and active lifestyle Through these programs, Wounded Warrior Project helps warriors reach their goals and enjoy improved health.
Prior to joining WWP, Tracy served for more than 22 years in the U.S. Army as a crisis and personnel manager and trainer – primarily in the military police. In her last assignment, she was chief of the congressional operations division in the Army's legislative liaison office at the Pentagon.
About Wounded Warrior Project
Since 2003, Wounded Warrior Project® (WWP) has been meeting the growing needs of warriors, their families, and caregivers – helping them achieve their highest ambition. WWP is a national, nonpartisan organization accredited with the Better Business Bureau (BBB), top rated by Charity Navigator, and holding a GuideStar Platinum rating. To get involved and learn how WWP connects, serves, and empowers, visit http://newsroom.woundedwarriorproject.org/about-us.   
Wounded Warrior Project's 9th Annual Warrior Survey of the veterans it serves showed:
• 62% have a VA disability rating of at least 80% (58% in 2017). 
• 87% are overweight or obese.
• 75% report frequent sleep problems. According to a separate survey of warriors who participated in WWP's wellness coaching in 2018, 47% reported improved sleep. 
• 78% report post-traumatic stress disorder (PTSD), the most common self-reported health problem among warriors.  
• 41% have traumatic brain injury (TBI).
• 90% have three or more injuries or health problems related to their service to our country.