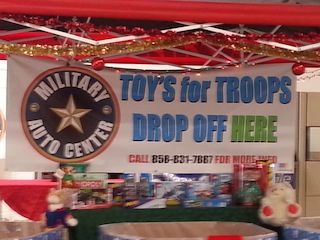 Military Auto Center has been working closely with MCAS Miramar for over 8 years.
So for the holidays we came up with Toys for Troops with the difference being.. All donations go directly to MCAS Miramar Airbase and the families that live and work on the base.
This year we are also working with Miramar Federal Credit Union. We have been working with MFCU helping to get our members some incredible interest rates on auto loans. We look forward to a long business relationship with them and working with our surrounding community. They will be a drop off location as well.
Although the holidays are a time of giving we also recognize that these families have every day needs that continue year round. So we at Military Auto Center are on a mission to collect donations year round on items like:
Tania Monahan who heads Family Readiness Davison On MCAS Miramar suggested some of these items below:
Toys for 0-2 kids are also always needed; things like bottles, boppies, any kind of hard-goods (i.e. not clothes, lotion, baby powders)
Maybe gift cards to say Wal-Mart, Target Wal-Mart, Target, movie theaters, or restaurants would be great too.
All donations go directly to Tania at Family Readiness on MCAS Miramar.
There they wrap and distribute the gifts to the families.
Donations for the holidays are from now until Dec 8th for the first delivery so they can get wrapping and second delivery by the 11th. However we will take donations right up to the 20th at Military Auto Center.
Drop off location is at our warehouse on 9323 Activity Rd, San Diego, Ca. 92126. You can get directions from our web site MilitaryAutoCenter.com or call us at 858-831-7887 Monday thru Saturday 9am to 6pm
MFCU is at 9494 Miramar Rd San Diego Ca 92126.. on the corner of Miramar and Black Mtn rd. Monday thru Friday 9am to 4:30pm