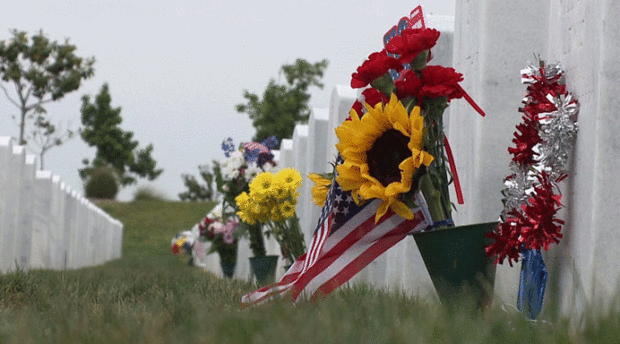 New floral pickup schedule starts at Miramar National Cemetery on March 15, 2017
San Diego, Calif. – In advance of the spring mowing season, Miramar National Cemetery will begin removing floral arrangements and other decorations left at gravesites on the first and third Wednesdays each month, starting March 15, 2017.
The new schedule assists staff with its springtime lawn care maintenance. "With the significant amount of rain this past winter and warmer weather on the horizon, we are expecting a much more robust mowing and trimming schedule this spring," said Rex Kern, Miramar National Cemetery director.
During the mowing season, it is especially important for visitors to follow the cemetery's long-standing floral policy. The intent of the policy is to maintain the cemetery's appearance and protect the safety of both visitors and workers, who have at times, had objects shoot from mowers during routine lawn care.
"We're asking families and visitors to please adhere to our longstanding floral policy to help us maintain the cemetery as a national shrine befitting the service and sacrifice of those interred in these hallowed grounds, and at the same time, protect those who work and visit the cemetery," said Kern.
Floral policies vary at national cemeteries across the country based upon climate and other regional factors. At Miramar National Cemetery, fresh-cut flowers may be placed on graves any time of the year and will be removed when they become unsightly. Artificial flowers, potted plants, and holiday wreaths are permitted at certain times of the year.
Permanent plantings, statues, vigil lights, breakable objects and similar items are not permitted on the graves. Unauthorized items are removed upon discovery, and durable items removed from graves are kept in a secure area for 30 days before disposal.
Miramar's floral policy is posted on signs throughout the cemetery, at the kiosks located at the cemetery's administration building, and available on the cemetery's website at http://www.cem.va.gov/cems/nchp/Miramar.asp.
Miramar National Cemetery's first burial was in July 2010 and it was officially dedicated as a national cemetery in January 2010. There are nearly 11,000 veterans and their eligible family members interred at the cemetery. Only 27 of the cemetery's 313 acres have been developed, leaving enough undeveloped land to serve local veterans and their families well into the next century.