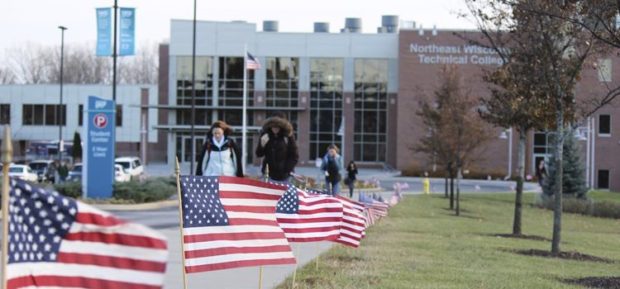 Welcome, Veterans
Your service to our country is greatly appreciated, and we are honored to provide you and your family with support and resources for educational success. Contact our Veterans Services staff with any questions you may have about the benefits and resources listed in this site. We look forward to serving you.
The Veterans Resource Center is your reception station at NWTC. We are located in the Student Center, SC135, on the Green Bay Campus. Make us your first stop when planning a visit.
Getting Started at NWTC!
Download the Veteran's Success Guide
– Apply for admission.
– Apply for federal educational benefits and state educational benefits.
– Complete the FREE application for Federal Student Aid (FAFSA) online. (NWTC Federal School Code is: 005301)
– Explore possible Transfer of Credit opportunities by submitting previous college and /or military transcripts to NWTC's Enrollment Services.
-A ttend New Student Orientation. After you are accepted to a program you will receive an email invitation to attend a New Student Orientation.
– Fill out and submit the VA Certification Request/Revision Form and submit it to the NWTC School Certifying Official in SC135.
From Soldier to Student
Make the transition from military to civilian and student life with a variety of veterans resources:
– Meet with the Veterans Services staff
– Join the NWTC Student Veterans of America chapter
– Utilize helpful on-campus and off-campus resources
Veterans Resource Center in SC135
Monday-Thursday: 8am-10pm, Friday: 8am-5pm
The new Veterans Resource Center provides a place for you to connect with peers, meet with the veterans advisor and the school certifying official, and get the information and resources you need to be a successful student. The Veterans Resource Center is located in Room SC135 in the Student Center on the Green Bay campus. There you can receive the following services:
– Educational Benefits Information
– Student Services Information
– Community Outreach Services
– CAC Access
– Lounge Area with Television
– Coffee and other Refreshments
– County Veterans Services
– Vet Center Resources
Questions?
If you have questions regarding your Federal and State Veterans Education benefits please call the School Certifying Official at 920-498-6292.
To speak with the Veterans' Advisor, about getting started at NWTC, or with questions about your current enrollment, please call 920-498-5744.
Or, email your questions to VeteranServices@nwtc.edu. (Please indicate in the subject line if your question is benefits or advisement related.)
NWTC
Founded in 1912, Northeast Wisconsin Technical College is a nationally-ranked, two-year public college where students prepare for high-tech careers and begin their bachelor's degrees. NWTC is one of 16 colleges in the Wisconsin Technical College System. The College has three campuses in Green Bay, Marinette, and Sturgeon Bay; five regional learning centers in Crivitz, Luxemburg, Niagara, Oconto Falls, and Shawano; and several additional sites.