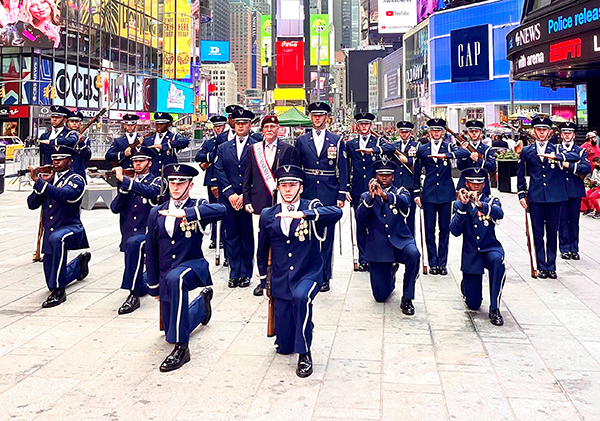 2021 Grand Marshal Kevin Carrick with Air Force Rifle Team
Expected Attendees include Vets Town Hall Founder Sebastian Junger; Mark Otto of UWVC; US Army Reserve LTC James Hendon; Silver Star Recipient Roger Sparks; Purple Heart Recipient Elana Duffy; US Marine Corps (Recon) Vet Adam Levine; and Gold Star Spouse Sara Wilkinson
In the lead up to Veterans Day, Veterans of any era who served in any capacity are invited to stand before their community and speak for up to ten minutes about what it was like to serve their country at The Veterans Town Hall, which takes place—rain or shine—Monday, November 8th from 6 pm to 8 pm, Vietnam Veterans Memorial Plaza, 55 Water Street, Manhattan. Non-veterans are encouraged to attend and listen.
The event will be emceed by Marine veteran Mark Otto, President/ Executive Director of the United War Veterans Council and combat veteran of the Panama Invasion and Desert Storm. Other Speakers include Iraq/Afghanistan war veteran, Army Lieutenant Colonel James Hendon; Marine Recon veteran/Retired Air Force Pararescueman (PJ), and Silver Star recipient, Roger Sparks; Army veteran/Purple Heart recipient and Pathfinder.vet founder Elana Duffy; and former Marine Recon Team Leader/combat wounded veteran, Adam Levine.
Other attendees include Sebastian Junger, founder and director of Vets Town Hall and author of War and Tribe; Gold Star Spouse, Sara Wilkinson, wife of Navy SEAL Chad Wilkinson, the inspiration for CHAD 1000X; and Emily McCarthy, co-founder of GORUCK, which builds the best toughest rucking gear to equip the rucking revolution, and hosts over 1000 military-style, outdoor endurance events that are led by Special Ops Cadre and focus on leadership, Team Building and patriotism.
The event is non-political, and all perspectives are valued. There will be no question-and-answer period or debate on American foreign policy. Attendees will simply listen and learn about what it was like to serve in the wars that this nation has chosen to fight.
"It is my sincere hope that Vets Town Hall events can help bridge the gap between civilians and service members and maybe even allow all of us to feel like we are part of something greater than ourselves," says Junger.
"I'm honored to be a part of this important event, which offers veterans—from every military branch and generation of service—the opportunity to share their stories with one another and with civilians in their community," says Otto. "As we commemorate the 20th anniversary of 9/11 and the War on Terror, and the 30th anniversary of Operation Desert Storm, it is important to hear from the brave men and women who made great sacrifices to defend our country."
The Vets Town Hall is free to attend, and refreshments will be provided. Veterans who would like to speak can indicate that when registering. Time permitting, veterans are also welcome to sign up to speak during the event itself.
Vets Town Halls were originated by Sebastian Junger with the aim of increasing communication and understanding between veterans and civilians in their communities. The first event of this kind took place in Marblehead, Massachusetts, in 2015, and was led by U.S. Representative Seth Moulton, a Marine combat veteran.
For additional information or to register, visit https://registration.goruck.com/event/vets-town-hall-nyc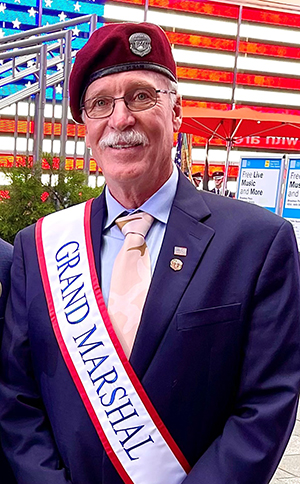 2021 Grand Marshal Kevin Carrick
About Vets Town Hall:
Vets Town Hall is a community forum aiming to increase communication and understanding between local veterans and the community at large. This event is non-political, and all perspectives are valued. There will be no question-and-answer period or debate on American foreign policy. Attendees will simply listen and learn about what it was like to serve in the wars that this nation has chosen to fight. Vets Town Halls were originated by author Sebastian Junger (War, Tribe) with the aim of increasing communication and understanding between veterans and civilians in their communities. https://vetstownhall.org