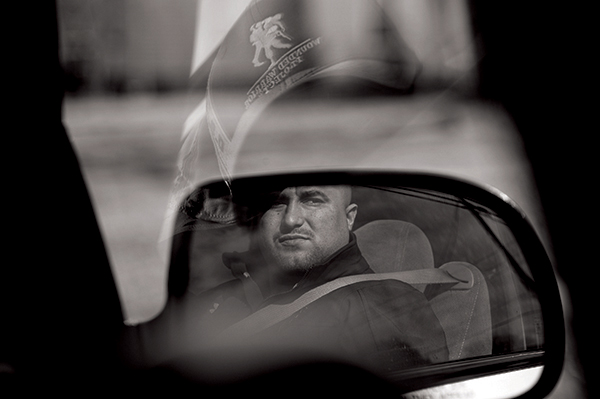 Purple Hearts are Giving Hearts: Injured Veterans Serve in New Ways
The Purple Heart Medal is presented to service men and women who have been injured in combat, or to the survivors of those who made the ultimate sacrifice. At Wounded Warrior Project® (WWP), we acknowledge the sacrifices of men and women who stood bravely for our country.
Receiving the honor and recognition of a Purple Heart award is, thankfully, not the end of the story for most recipients. Wounded warriors from all walks of life show us how to live fully as they transform their desire to serve into new careers and renewed commitment to their loved ones and their communities.
Many wounded warriors exemplify the WWP logo, being the warrior carrying an injured brother or sister. Here we highlight three Purple Heart recipients who have inspired others to reimagine their lives and continue serving.
Michael Carrasquillo:
On September 9, 2005, Michael Carrasquillo jumped to the ground from a hovering helicopter in Afghanistan, looking to help his Army unit capture a high value Al Qaeda official. But when his team was ambushed and one of his soldiers was injured, Michael ran to help — despite not having anywhere to hide from incoming bullets.
Michael was shot five times, two of which caught his vest, breaking his ribs and collapsing one of his lungs. One bullet hit his weapon and sheared off his right middle finger. One hit him in the bicep. While on the ground from the first four, a bullet hit near his armpit.
WWP has since helped Michael find a purpose: helping other veterans. WWP helped him secure a job at the VA, through which he can help veterans while using his extensive IT skills. He's also a Peer Group Leader in Maryland, making himself available to chat with warriors one-one-one as well as taking the lead in support group meetings – and is extremely passionate about working with other veterans. In addition to WWP, his support team now includes wife Jenny, baby Logan, and service dog Ojai (pronounced OH-hi). He's a video gamer and performs stand-up comedy.
"In my life now, I feel like I'm in a very blessed position, and what I'd like to do is give back as much as I can," Michael said. "WWP helped me become the best possible version of myself."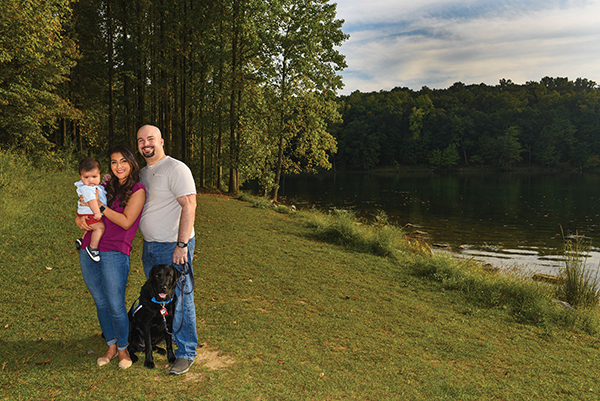 Recently, the Manhattan native was honored with the Courage Award, WWP's recognition to a warrior who exemplifies bravery, courage, and strength. New York Giants defensive end B.J. Hill presented Michael – a life-long Giants fan – with the award.
Mike Heller:
Marine Corps Reserve veteran Mike Heller talks openly with his three daughters about fellow Marines he lost in Iraq.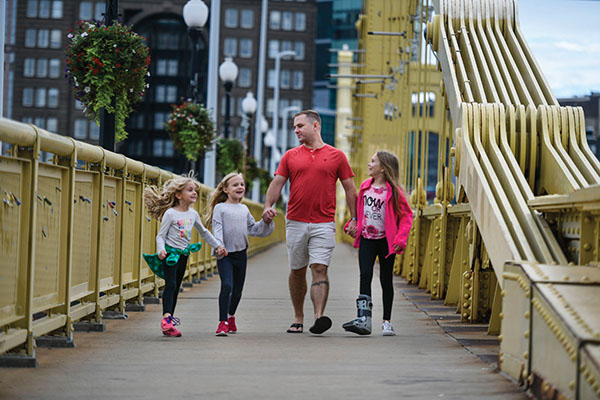 "I want them to grow up knowing that it's very important to remember these guys who've given so much for what we have."
His oldest daughter once asked why he always wears a memorial bracelet with Joe Goodrich's name. "It reminds me when I have bad days that my life's not that bad. I have a lot of things to be positive for, and it helps me get through the days when things just feel like they're imploding, and I remember that Joey's with me and he's always on my wrist."
Joey is bound to Mike's toughest day in Iraq in 2005. A landmine explosion scattered the squad he led across a dusty road. Mike had blood gushing from a cut above his eyebrow, but he regained consciousness and was able to crawl out of a ravine. Joe had a broken pelvis and a severed artery. A rescue helicopter was not able to land because of a sandstorm. They drove three and half hours to a hospital, where Joe was stabilized and prepared for air transport. He died during the flight.
"I have moments where it just hits me hard and I can't figure out why. And you replay the day over and over and over, and there are choices. And no matter how much you talk through it, you realize that it's out of your control, and there's nothing you could have or would have done differently.
"But still to this day I remember stepping in the back of that Humvee and looking at both seats: the one Joey sat in and the one I sat in. Why am I here today and he's not?"
Mike finished his active duty service despite back injuries that eventually required surgery. He returned home to Pittsburg, married his fiancee, and started a family. He also went back to school, finishing his bachelor's degree and starting his master's. When his second daughter was six months old, things caught up with him. With support from the Quantico Wounded Warrior Battalion (through Veterans Affairs), Mike started working on PTSD issues. He later found WWP and received support updating his resume. He now works for a national company and shares parenting time with his three girls.
His next goal is self-evaluation and growth. "A lot of things have changed over the past few years after a divorce and working out a parenting schedule with my girls. I really need to work on me."
Shane Parsons:
Army veteran Shane Parsons enlisted a month after graduating high school, mostly because of the events of 9/11. The day he was injured, he could have stayed inside a U.N. compound in Baghdad, Iraq, but he volunteered to go out with a small group to secure nearby areas.
"We were tasked to go and check areas, anything suspicious, just day-to-day stuff. But on our way back to get food, we got hit."
"I only could hear ringing, and Sergeant is trying to say something to me," Shane said. "As the ringing is going away in my one ear, I hear my brother screaming. I look over and I see my best friend with his left leg up sitting next to him on his lap."
Shane was driving and his battle buddy, Chris Melendez, was a passenger. Shane reacted defensively to protect his friend and did not realize his own injuries immediately. He was put in an induced coma and woke up at Walter Reed National Military Medical Center weeks later.
In addition to having bilateral above-the-knee amputations, Shane had traumatic brain injury. He had to relearn to speak, read, and write. He went through months of rehab, aided by his mom, Cindy, a registered nurse who put her career on hold to care for him.
After 15 surgeries and with Cindy's help, Shane made it through speech therapy, occupational therapy, and physical therapy.
Because of her experience with Shane, Cindy became a strong advocate for wounded service members. She participated in the WWP Caregiver Summit in Washington, DC, in 2009, where she lobbied Congress for the passage of the Caregiver and Veteran Omnibus Health Service Act of 2010 – a bill providing assistance and support for caregivers of injured servicemen and women returning from war.
Shane and his mom Cindy started participating in WWP events, including Soldier Ride®. Shane met his wife, Jennifer, at a veterans' event. They made a fresh start when they moved northwest and started a family.
"My time right now is to better myself and to better my wife's and my young son's lives," Shane said. "I want to make sure that he doesn't have the ripples of how things are these days."
To learn more about how WWP helps veterans find their next mission, visit https://wwp.news/GetConnected.
About Wounded Warrior Project
Since 2003, Wounded Warrior Project® (WWP) has been meeting the growing needs of warriors, their families, and caregivers – helping them achieve their highest ambition. WWP is a national, nonpartisan organization accredited with the Better Business Bureau (BBB), top rated by Charity Navigator, and holding a GuideStar Platinum rating.
Learn more about how WWP connects, serves, and empowers.