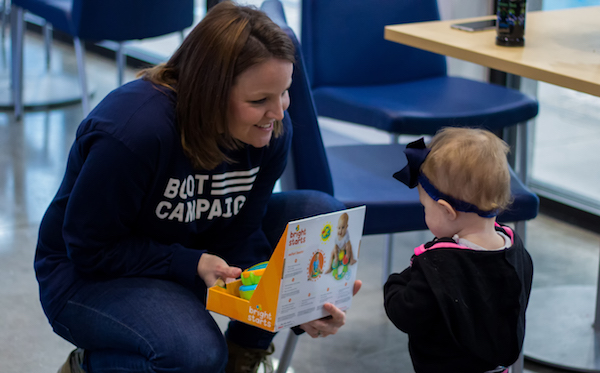 'SANTA BOOTS' OUTREACH PROJECT SURPRISES DESERVING MILITARY FAMILIES WITH HOLIDAY GIFTS CAREFULLY CHOSEN BY SELFLESS VOLUNTEERS
By Barry Smith
Boot Campaign
Santa deserves a ton of credit for delivering gifts and creating millions of happy faces around the globe every Christmas morning. But his job, as most people know, would be impossible without his dedicated army of elves.
The national military non-profit Boot Campaign has enlisted its own platoon of elves who volunteer to help Jolly Old Saint Nick through its annual "Santa Boots" project. The initiative, piloted by Boot Campaign's Programs Director Meg Jones, sends Christmas gifts to deserving military families across the country with the help of patriotic corporate partners, Boot Elves, and a little magic!
Without help around the holidays, many military families would go without the uplifting tradition and gifts they deserve. Money is often tight after deployments, and some military families have permanent change of station orders or face service-related injuries.
Since 2015, Boot Elves have assembled and delivered a "surprise" box full of meaningful gifts to 189 deserving families in 35 states. The gifts are provided by Boot Campaign, its national non-profit partners Armed Services YMCA and Operation Homefront, as well as its participating network of grateful Americans. The volunteers come from near and far, write personal notes of thanks, shop for gifts, wrap gifts in one of two Texas workshops, and hand-deliver Santa Boots boxes to families in their city.
"Shopping for our families is something hard to describe, but I knew I had to be part of it and make Christmas special for these families," explains Hughes, who became involved four years ago. "It's like you can picture the family members in your mind and when you find just the right toy, outfit or gadget, you are so excited and can just picture them opening it and thinking, 'Wow, Santa or someone really knows me and cared!'"
"When we get all the gifts in the warehouse to start wrapping, I really do feel like an elf," adds Cupp, a resident of the Fort Worth, Texas area. "It's quite magical like the North Pole. People in the program are hustling and bustling to make everything look just right, all to make our families know we love them, and know we appreciate them for their sacrifice and service."
Both Hughes and Cupp are civilian volunteers and each responsible for managing half the shopping for the 75 families from 31 states and Washington D.C. that were selected to receive Santa Boots boxes this year. Although they are not direct members of the military community, they participate because of their deep understanding, appreciation and respect for what that community does for them and their loved ones.
Each box is stuffed with approximately 15 to 20 personalized gifts for each member of the recipient family. The gifts are donated from patriotic individuals and businesses across the country, and are curated based on the selected families' interests, hobbies and immediate circumstances.
"We have military families who've sacrificed so much to protect my freedom and my family's freedom, and to think that many of them are hurting right now is tough," confides Hughes, who also sits on Boot Campaign's Advisory Board while her husband John is on the Board of Directors. "I can't just say, 'Thank you for your service.' I have to do something to help. I want them to know I care. I appreciate what they chose to do, and I stand in support of them.
Whatever the challenge, two vitally important Boot Elves to the Santa Boots project – Texas natives Pamela Hughes and Lisa Cupp – are among those passionate volunteers who enthusiastically spring into action when active-duty and veteran families in need are nominated and selected to receive Santa Boots gift boxes.
"It is my job to ensure I'm a good steward of every dollar in the budget to get my families the right gifts as they are needed, because every family is very deserving," she continues. "We have legit military families who are really struggling. Each story is different, but they can be heartbreaking."
Cupp says it is an emotional but rewarding time for her when she receives information about the families she is responsible for buying gifts.
"When I'm given the list of families to shop for, I go through so many emotions," admits Cupp, whose husband Randy sits on the Boot Campaign Advisory Board. "I'm so grateful for those that choose to serve to help keep us safe, and I feel such empathy for the challenging times the families might be going through.
"I have a hard time detaching myself from their problems, and I really hope to brighten each family's lives, if only for a day," Cupp adds. "I try to get everyone new outfits and toys that will make them squeal!"
Not only do Cupp and Hughes enjoy personalized shopping, they also are thrilled with the opportunity to recruit friends and other generous Americans to sponsor families they can help.
"I live in a small town with the most amazing and generous friends," reports Hughes, a Poteet, Texas resident. "I give them intel on Santa Boots nominees and they 'adopt' a family and do all the shopping on their own dime. When they do that, it means even more of the budget can go to extra gift cards for the families who need them most."
"This is my third year as a Boot Elf and I'm always so blown away with all the people I come across who want to help," echoes Cupp, regarding the inspiring holiday spirit she encounters on almost a daily basis. "I'm the crazy lady with a cart towering over with toys and clothes, carrying my huge binder and flipping through pages trying to find things like sizes and colors. There's always a stranger who walks up to me to ask who I am shopping for, and then gives what they can or offers to help."
When Cupp or Hughes meet potential Boot Elves or interested individuals who want to join in by giving back, these Texas women are more than happy to spread the word on how to help share the holiday joy with heroic families in need.
"Anyone can make a monetary donation through the Boot Campaign's website (www.bootcampaign.org), host a gift drive, help with gift wrapping or even adopt a family from one of the elves like me," Cupp explains. "Whatever someone gives to Santa Boots is also a gift to themselves."
Adds Hughes: "Volunteers like those involved in Santa Boots really do care with no strings attached."
After all the planning, research, shopping and wrapping are complete, what is left for a few lucky Boot Elves is an experience that is truly priceless – delivering a Santa Boots box of love to a worthy military family who could use a hand up.
"With one of the families we delivered to, I called the father and told him who I was with and that I wanted to stop by to visit his family," recalls Cupp. "His face was stunned to see us with this huge box of gifts. He was truly overwhelmed. We walked into his house as he explained they weren't able to buy a tree that year. His daughters came running into the house and the first thing they said was, 'Daddy, you said we weren't having presents this year.'
"That's when I knew I was so lucky to help this family," Cupp beams. "The girls would open a present, run to their room and come running out with their new outfit on. They would scream with every toy they opened, and dance with excitement. I didn't want the day to end, the family was so beyond grateful!
"Then they said that they wanted to pay this forward. That's what Santa Boots is all about, helping those in need to get a fresh start, and them helping the next family."
Learn more about Boot Campaign and its Santa Boots project at www.BootCampaign.org