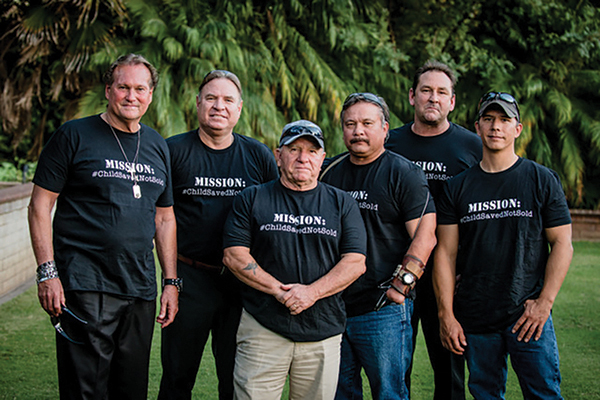 A California Non- Profit Organization of Former Police Officers and Navy SEALs turned Licensed Private Investigators who assist Parents and Law Enforcement in locating Missing & Exploited Children
Narrative by Founder: Pastor Joseph A. Travers,
CPI, CCDI, CMECI
On September 21, 2009 I was reading an article from the Orange County Register, "Retired Terror Hunters Hope to End Child Sex Slavery" (in foreign countries). This brought to mind the news I heard recently regarding a missing 17-year-old girl who left her parent's home in New York. Brittanee Drexel was last seen in a hotel video in South Carolina on April 25th. Where was she? (In August 2016 the FBI reported that Brittanee was taken from the hotel in Myrtle Beach by a gang member pimp to a stash house in North Carolina for several days then repeatedly raped by gang members, shot dead and fed to alligators.)
As a former Police Detective and current Licensed Private Investigator, I have seen countless cases of missing children. The statistics are grim and disheartening. I knew many children ended up being trafficked into human slavery and felt compelled to meet the "Terror Hunters", to see if there was a way to perform these rescues here in the United States. I immediately made arrangements to meet these former special operations 'Terror Hunters'. Through a series of meetings, I met a former Navy SEAL who helped form Saved In America (SIA). It was decided after several meetings and operational discussions that Saved In America would focus on preventing gangbanger/pimp/predator/slave traders from securing girls to traffic here in the United States. This meant targeting children before they could be trafficked. Saved in America would find the missing children, the runaways like Brittanee. In December 2014 SIA recovered its first child.
The Saved In America team model consists of three pillars;
1. We never charge parents/ guardians to find their children.
2. We do this voluntarily, refusing pay.
3. We only use former Special Operators and retired/ current Police Detectives who become Licensed and Insured Private Investigators.
Saved In America currently has over 30 operators; all licensed and insured Private Investigators consisting of former Navy SEALs, Marine Recon Raiders, British SAS, and retired Police Officers. In addition, SIA has an Executive Director, Legal Director, Policy Director, Training and Child Rehabilitation Director, Social Networking Investigator, Licensed Drone Operators and State Licensed Firearms Instructors. Since our initial operation in December 2014 Saved In America has performed 133 successful child recoveries (out of 133 cases). The approach and techniques used by Saved in America help guide the rest of the nation on how to stop child sex trafficking before it happens, by focusing on runaway and missing children. Saved In America has taught it's investigative techniques to the Human Smuggling & Trafficking Center, Washington, DC, Licensed Investigator Associations in Texas, Florida, North Carolina, South Carolina, and Alabama, and, for the Naval Special Warfare Command in Coronado, California.
Thank you 'Terror Hunters' for your inspiration, and in the remembrance of Brittanee Drexel, who started and continues to drive Saved In America's work. On November 1, 2018 at the 2nd annual Saved In America 'Child Saved Not Sold event in Del Mar, California, Saved In America awarded its first 'Brittanee Drexel Scholarship' to a survivor of Child Sex Trafficking. Brittanee's mother Dawn presented the award.
For further information please visit our website: SavedInAmerica.org.
The Saved In America story has also been published in a book titled- "Investigation of Missing & Exploited Children: The Gateway of Child Sex Trafficking, 2nd Edition October 2018, available at LuLu.com.