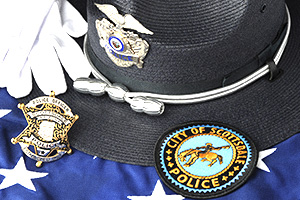 Located in the beautiful Sonoran Desert, Scottsdale, Arizona is bordered by Phoenix to the west and the McDowell Mountains on the east.
Scottsdale is annually rated among the nation's most desirable communities to live in, visit and do business in. Scottsdale's vibrant downtown is considered the finest urban center in Arizona. It is home to more than 90 restaurants, 320 retail shops and more than 80 art galleries.
Scottsdale's McDowell Sonoran Preserve, in the city's northern reaches, is the largest urban wilderness area in the United States and features more than 60 miles of trails through diverse and scenic desert terrain
The Scottsdale Police Department is an accredited, full service agency committed to excellence, initiative and integrity. We are an equal opportunity employer, and our team includes sworn and civilian positions in a wide range of jobs.
Jobs with the Scottsdale Police Department provides:
• A highly competitive compensation and benefits package including first day health
benefits
• A variety of health and dental plans to meet individual and family needs
• Two weeks paid vacation beginning your first year of employment
• State-of-the-art equipment and technology that enhances our employees' ability to
do their job and learn a variety of new skills
• Opportunities for advanced training, education and growth
For more information on Benefits please click the link below.
http://www.scottsdaleaz.gov/hr/benefits
Reasons to apply as a Police Officer with Scottsdale Police Department:
• Scottsdale Police Department currently has 4 Districts, 1 Headquarters. There are
approximately 401 Officers. Scottsdale is unique as it has its own crime lab, cyber
lab, and polygraph examiner allowing investigations to be conducted in house with
quicker results for investigations.
• Scottsdale provides officers uniforms and equipment (dry cleaning is also included),
detectives receive a uniform allowance. After 2 years of patrol, officers can test to
be a detective or after 3 years they can look to promote.
• Scottsdale has an array of assignments for lateral movement within the department.
Opportunities for a Detectives position within the department include:
Burglary/Theft Unit, Computer Crimes Unit (CCU), Criminal Intelligence Unit (CIU),
Domestic Violence Unit (DVU), Drug Enforcement Unit (DEU), Financial Crimes Unit
(FCU), HEAT, Night Detective Unit (NDU), Repeat Offender Program (ROP) Unit,
Scottsdale DEA Task Force (includes asset forfeiture), Special Assignments Unit
(SWAT), Special Victims Unit (SVU), Technical Operations Unit (TOU), Vehicular
Crimes and Reconstruction Unit (VCRU), and Violent Crimes Unit (VCU).
• Scottsdale also has specialty assignment units to include: Bicycle Officer, Canine
Officer, Crime Prevention Officer, Detective positions, DUI Enforcement Officer, Field
Training Coordinator, Field Training Officer, HEAT Officer, Motor Officer, Mounted
Officer, Personnel Unit, Public Information Officer, School Resource Officer, Special
Assignment Police Aide, Training Officer, and other positions as directed by the
Office of the Chief.
• Scottsdale offers many incentives for quality of life and financial security to include:
health/dental/vision benefits; tuition reimbursement; deferred compensation
through Nationwide, discounted city gym memberships and access to 4 District
gyms. During the months of December through March, Scottsdale hosts many well
know events such as: Barrett Jackson car auction, Good Guys Car Show, Rock and
Roll Marathon, Phoenix Open, Arabian Horse Show, and many other events which allows Officers the opportunity to work off duty.
Watch our recruitment video
https://www.youtube.com/watch?v=lOXk2dxqps8
Complete an interest card today to be a Scottsdale Police Officer and join the ranks
of the finest police department in the nation or learn about the many civilian and
support staff positions with SPD.
https://www.governmentjobs.com/careers/scottsdaleaz/jobInterestCards/categories
If you are interested in going on a ride along, please click on the link below.
http://www.scottsdaleaz.gov/Assets/ScottsdaleAZ/Police/Ride+Along+Form.pdf
Scottsdale Police Department
Personnel Unit
8401 E. Indian School Road
Scottsdale, Arizona 85251
General Recruiting Inquires – Tel: (480) 312-1943
Testimonials

Sergeant Jason Ponder
US Marine Corps Veteran
I served as a Sergeant in the US Marine Corps. During my military service, I worked as an
Aircraft Crash Rescue Crew Chief, and US Marine Embassy Guard. My duty stations included
Japan, Europe and Africa. The Marines provided me with a great sense of pride, meaningful
work, adventure, and camaraderie. After serving in the military for over 4 years, I was looking
for those same qualities in my next career. I have been a Scottsdale Police Officer for over 20
years now, and I can certainly say that it has been an outstanding career choice. The
opportunities to advance and work in a variety of special assignments are readily available in
Scottsdale. I have had the privilege of working multiple special assignments for Scottsdale
Police including, SWAT Operator, Police Sniper, Narcotics Detective, DEA Federal Task Force
Officer, Mounted Patrol Officer, and Homeland Security. Similar to my experience in the
military, the Scottsdale Police provides me with opportunities for professional development,
exciting assignments, and outstanding people to work alongside
SERGEANT SIMON CESAREO
Chief Master Sergeant, USAF, Ret,
I served in the United States Air Force (Active Duty) for 8 years as a Security Forces (police back then)
member. When it was time to seek other career opportunities I transferred to the Air Force Reserve. I
missed the daily sense of professionalism, teamwork, comradery and friendships that come from
working in a military environment. I became a Police Officer and that filled that void left by getting out
of active duty and satisfied the desire to continue serving. Serving the community is a calling as is
serving your country. Becoming a Police Officer gives you the opportunity to truly make a difference,
help those in need and keep people safe. I continued to serve in the AF Reserves for an additional 25
years with the full support of the Scottsdale Police leadership. The Scottsdale Police Department has
long legacy of excellent professionalism and service. It is truly an awesome place to work.
Sgt. Simon Cesareo
OFFICER DRASCIC
1LT, United States Army Reserve
I spent my enlistment in the U.S. Army Reserve as an Engineer Officer out of Scottsdale, Arizona serving
as a Platoon Leader. My decision to join the Army was because I wanted to make a difference and earn
valuable leadership experience. My decision for becoming a Scottsdale Police Officer was for the same
reasons — I wanted to serve my community and become a better leader.

DETECTIVE LUGAY
US ARMY VETERAN
I served in the US Army, first as an Enlisted Soldier and later as a Commissioned Officer. As a Lieutenant
I served as a Platoon Leader and Executive Officer in a Combat Infantry Unit with the 4th Infantry
Division. After leaving active duty, I wanted a career outside of the military that was challenging, that
served my Country & community and one which upheld the professional standards that I was familiar
with. After working with and serving with several law enforcement agencies, I found that the Scottsdale
Police Department exceeded my expectations and allowed me to get the most out of my career in law
enforcement.
OFFICER MCDONOUGH
United States Air Force
In 1979, my brother Mickey and I enlisted in the United States Air Force in search of a better life and
maybe a little direction. Mick went in November 1979 and I followed in January 1980. I served from
1980-2000 as a Security Policeman, Law Enforcement Supervisor. I planned on serving one enlistment –
4 years but I soon realized the Air Force was where I belonged. I had discovered I truly loved serving my
country, community and working with people from all walks of life. When retirement approached I
asked myself, "What capacity could I continue serving"? Being a Scottsdale police officer has allowed
me to continue to serve.
DETENTION OFFICER NIEVES
Army National Guard
I've always believe that it was my obligation and duty to serve this wonderful country for all it has giving
me. I joined in 2002 as an Infantryman in The Army National Guard in Puerto Rico and served with the
1/65th Infantry Regiment. After 16 years I'm currently still serving in the Army Reserves of the United
States in Sloan, NV as a Motor Vehicle Operator. My purpose in life is to serve and protect my family,
friends and my community, so I decided to become a Detention Officer for the great City of Scottsdale.
POLICE AIDE IWAN
United States Airforce
In the early 70's I was stationed at three different air bases in Vietnam as a K-9 handler for the United
States Air Force. I was proud to serve my country, and I am grateful that I suffered no serious long term
negative effects like so many of my brothers and sisters did. My dedication to my country carried over
into the civilian sector where I spent 25 years in the mid-west as a police officer until I retired to Arizona
to be with family. I am currently employed by the Scottsdale Police Department as a Police Aide.
Although I am at an age where most people think about retirement, I cannot think of a career field that I
would rather have gotten into other than law enforcement that was satisfying and rewarding to me
personally. If I had to do it all over again, I would make the same career decision now as I did then.

OFFICER DAN ANTRIM
22-year United States Navy Veteran
After completing my Active Duty obligation as a Naval Aviator, I entered the Naval Reserve and was
subsequently recalled to active duty twice after 9/11. Upon return from OIF/OEF, I realized how much I
truly missed the camaraderie and unique fraternal bonds of Military Life. Not only have I found that
same sense of duty, honor, and loyalty within the ranks of this police department, it's also the most fun
I've ever had. I relish going to work every day and, like in the military, I've found the ability to transfer
to different units every 3-4 years in order to keep myself fresh and in a constant learning mode. If
you're looking for a place to find like-minded brothers and sisters that you KNOW will have your back as
well as a fun career that is ever-changing on a day-to-day basis, you can find it here.

OFFICER KEITH ENGLISH
Senior Master Sergeant Keith C. English Sr.
United States Air Force Reserves
I enlisted in the US Air Force in 1988. I spent 12 years as a Missile Handler and Maintainer at
Malmstrom AFB, MT, before transitioning to the Air Force Reserves In 2000. I changed my position to
Services (Lodging, Fitness/Recreation, Dining, Mortuary). I currently serve as the superintendent for the
944th Mission Support Group at Luke AFB. My decision to become a Scottsdale Police officer was hinged
on how officers made me feel safe, in my neighborhood, growing up. That engrained in me the desire to
make others to not live in fear. I could think of no greater platform than the United States Air
Force. That same platform presented itself as an opportunity to make a community safe as well as an
officer.
Scottsdale has a variety of exciting and challenging sworn and civilian
positions. Based on profession, some positions have multiple levels for
advancement.

Police Officer Trainee: The Police Officer Trainee serves as an entry-level
class prior to becoming a Police Officer. Participates in formal, structured
training at a police academy as well as customized departmental post
academy and field training program arranged by in-service trainers

The Police Officer: The Police Officer patrols designated areas of the City to
protect life and property, to prevent and deter crime, enforce laws, respond to
citizen requests for assistance, and perform investigations. Some positions
may be assigned to other units or special assignments.
Security Guard: Provides armed security for facilities.
Communications Dispatcher: Receives and dispatches calls from emergency
911 and non-emergency telephone lines from citizens or city staff requiring
police response or information.
Crime Scene Specialist: Conducts technical investigations of all types of
crime scenes; duties include photography and the collection, examination and
preservation of evidence.
Crisis Intervention Specialist: Provides professional level crisis
intervention, evaluation/ assessment, and information and referral services
for the Police Department.
Detention Officer: Performs duties associated with the operation of a jail,
booking and processing of arrested persons and the welfare and security of
prisoners.
Fingerprint Technician: Performs classification, searching and comparison
of fingerprints and maintains general, major case and palm print fingerprint
files.
Forensic Scientist I, II: Performs professional level work involved in the
examination, identification and evaluation of physical evidence in the
investigation of crimes for the Police Department.
Police Aide: Responds to Police dispatch-based calls for service and conducts
investigations for a variety of calls not requiring Police Officer presence;
including motor vehicle collisions, burglaries and criminal damage.
Police Records Specialist: Entry level position that performs customer
service assistance to internal and external customers, data entry, filing,
proofreading, scanning, maintenance of computerized records management
system, queries and entries to state and national criminal justice information
systems, and other clerical work as needed.
Property & Evidence Technician: Performs work related to receiving,
storing, issuing and disposing of personal and non- personal property
impounded following City, State and Federal requirements.
Visit www.scottsdalepd.com for up to date job postings and more information
Message from the Chief
Thank you for visiting the City of Scottsdale Police Department website. As the Chief of Police, I
am honored to serve alongside the men and women of the Scottsdale Police Department. We
have a dedicated group of sworn officer, civilian employees and volunteers committed to
safeguarding the lives and property of the Scottsdale community.
Their commitment to providing world class community policing to the citizens that live, work and visit our city has continually resulted in Scottsdale being recognized as one of America's safest cities.
Our Police Department, in partnership with the citizens of Scottsdale, recognizes the changing needs of our community and law enforcement's role in addressing those needs. Furthermore, we pledge Excellence, Initiative and Integrity to enhance the quality of life throughout our City knowing those we serve deserve no less.
On behalf of my command staff, our employees and volunteers thank you for taking the time to
learn about our Department.
Alan Rodbell
Chief of Police