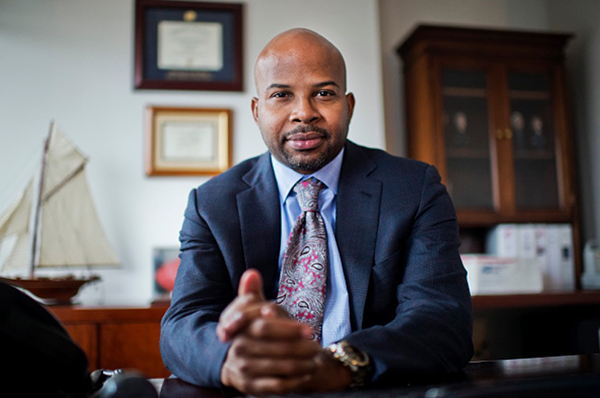 Sherman Gillums Jr. Joins America's Warrior Partnership Board of Directors
Chief Strategy & Operations Officer for National Alliance on Mental Illness (NAMI) and retired United States Marine latest addition to nonprofit organization leadership
America's Warrior Partnership announced today that Sherman Gillums Jr. has joined the organization's Board of Directors. The United States Marine Corps veteran and current Chief Strategy and Operations Officer for the National Alliance on Mental Illness (NAMI) will serve as the fifteenth member of the nonprofit's leadership and advisory board.
"We are pleased and honored to welcome Mr. Gillums Jr. to the AWP board," stated Jim Lorraine, President and CEO of America's Warrior Partnership. "His insight, experience, knowledge, and leadership will be very valuable as we continue to raise awareness of veterans' issues and to empower veterans in their communities."
Sherman Gillums Jr. is the Chief Strategy and Operations Officer for the National Alliance on Mental Illness (NAMI). He oversees the organization's efforts to provide universal and timely access to appropriate mental healthcare for underserved communities and destigmatize mental illness. He previously served as Executive Director of Paralyzed Veterans of America and as the Chief Strategy and Advocacy Officer for AMVETS, two of the largest congressionally-chartered veteran service organizations in the U.S.
Gillums has testified before Congress as an expert witness and appeared on national networks, such as CNN, Fox News, and C-SPAN, as one of the most influential voices on military and veteran issues. He currently serves on the Federal Advisory Committee for Veterans' Family, Caregiver & Survivor (FACA) as Vice Chairman, alongside Chairperson Elizabeth Dole. Governor Ralph Northam also appointed Gillums to serve on the Fair Housing Board for the Commonwealth of Virginia for a second term.
His past advisory work includes an appointment to the Federal Advisory Committee on Prosthetics and Special Disabilities and the Rehabilitation Engineering and Assistive Technology Society of North America (RESNA) Wheelchair Standards Committee. Additionally, he has served as a research reviewer for the Defense Department's Congressionally Directed Medical Research Program and adjunct faculty for the University of Pittsburgh's State of the Science Symposia series at Walter Reed National Military Medical Center. He is also a certified Applied Suicide Intervention Skills Training (ASIST) Trainer.
His published works include a manuscript entitled "Paving Access for Veterans Employment through Holistic Transition: Practice Implications when Working with Veterans" in the Journal of Applied Rehabilitation Counseling and "Clearing the Backlog and Facilitating Benefits for Veterans with Disabilities," a report endorsed by the National Council on Disability (NCD). His expert commentary has regularly appeared in The Hill, Military Times, and Task & Purpose.
For his work, Gillums was recognized by the U.S. Chamber of Commerce Foundation Hiring Our Heroes with the Don Weber Wounded Warrior Employment Award in 2013 and the Academy of United States Veterans VETTY award for leadership in veteran mental health in 2020. HillVets also selected him as among the 100 Most Influential Leaders in Washington DC. In 2020, he was chosen as one of the "Mighty 25" by We Are The Mighty, the largest entertainment and lifestyle publisher that celebrates the military community. His alma mater, the University of San Diego, inducted him into its Alumni Hall of Honor in 2016.
Gillums served in the United States Marine Corps for 12 years and received an honorable discharge at the rank of Chief Warrant Officer 2 after medical retirement due to severe injury. He holds a master's degree from the University of San Diego's School of Business Administration. He also completed his Executive Education at Harvard Business School and is currently pursuing a Doctor of Education degree at the University of Dayton.
"Anything we can do to ensure our nation's veterans do not fall into societal gaps, where we see homelessness, addiction, lost identity, and a sense of hopelessness persist, we should do it. I've spent my career taking measure of the true, less visible cost of freedom, going from hospital bedsides to Capitol Hill, to ensure families do not bear those lingering costs alone," stated Gillums. "I'd learned many lessons as a Marine leader. But the greatest takeaway for me was one can either watch what happened, wonder what happened, or make things happen. I choose the latter as a new member of the Board of Directors for America's Warrior Partnership, where they make great things happen for our veterans, their families, caregivers, and survivors."
About America's Warrior Partnership
America's Warrior Partnership is committed to empowering communities to empower veterans. We fill the gaps between veteran service organizations by helping nonprofits connect with veterans, their families, and caregivers. Our programs bolster nonprofit efficacy, improving their results, and empowering their initiatives. For more information, visit www.AmericasWarriorPartnership.org
@AWPartnership #awpartnership