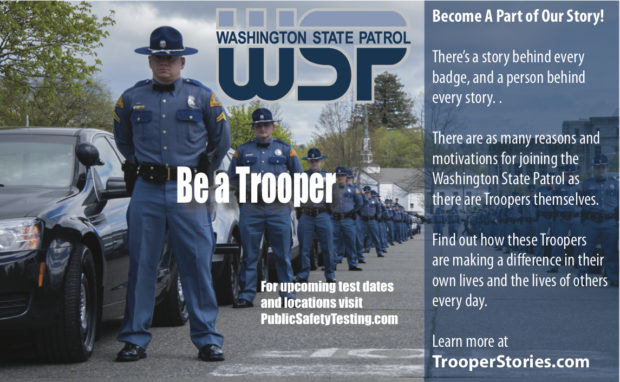 The Washington State Patrol is anticipating the need to fill several hundred Trooper positions over the next several years. This process is competitive and we typically will test between 1,500 to 2,000 applicants to find 60 quality people we can hire.
You shouldn't start the application process until you are less than six months from separating from the military. Please visit our web page at www.wsp.wa.gov for up to date information on hiring. When you are ready to test please go to publicsafetytesting.com to schedule a written, physical fitness test. If you are outside of Washington State and interested in testing for the Washington State Patrol, please follow the instructions listed on Public Safety Testing's Out of State webpage (https://www.publicsafetytesting.com/outofstate) to set up a test in your area.
The WSP has four phases to our hiring process.
Phase 1 Physical fitness test and written test (Public Safety Testing)
Phase 2 Polygraph and Background Investigation
Phase 3 Oral interview
Phase 4 Psychological test, Psychological Interview with Psychologist, Medical exam
It typically takes 90 to 120 days to complete the hiring process.
To apply go to our website www.wsp.wa.gov and select trooper positions or go to publicsafetytesting.com and select Washington State Patrol.
The Washington State Patrol (WSP) is a nationally accredited law enforcement agency made up of dedicated professionals who work hard to improve the quality of life of our citizens and prevent the unnecessary loss of life on a daily basis.
Mission Statement
The Washington State Patrol makes a difference every day, enhancing the safety and security of our state by providing the best in public safety services.
Vision
To be the best public safety agency in the United States.
Motto
Service With Humility
Values
Every employee is a critical member of a team committed to earning the trust and confidence of the public through:
• Strong leadership
• Effective partnerships
• Professional excellence
• Acting with integrity and accountability
• Respecting and protecting individual rights
• A culture of continuous improvement
Goals
• Goal 1 – Build a culture of trust, collaboration, and continuous performance improvement
• Goal 2 – Make people safe on Washington roadways
• Goal 3 – Make people secure by reducing the risk of crime, terrorism, fire, and other natural disasters
• Goal 4 – Deliver results-oriented, statewide public safety services
• Goal 5 – Improve and sustain agency infrastructure and business processes
QUALIFICATIONS:
The character of police officers today is continually being challenged. Because public scrutiny is particularly intense for uniformed personnel, applicants seeking employment with the Washington State Patrol as a Trooper Cadet must possess an exemplary background and personal history. The nature of police work necessitates that only the best applicants are chosen. We have provided our standards to assist you in making a realistic assessment of being hired as a Trooper Cadet.
The WSP has four phases to our hiring process.
Phase 1 Physical fitness test and written test (Conducted by Public Safety Testing)
Phase 2 Polygraph
Phase 3 Background Investigation, Oral Interview
Phase 4 Psychological test, Psychological Interview w/ Psychologist, Medical exam
• Current Military -Please do not apply until you are within six (6) months of your ETS date. Please contact the WSP Human Resource Division (HRD) if you have any questions. Let us pay for your academy training and pay you a salary while you attend.
Minimum Requirements:
• Be a citizen of the United States of America
• Be 19½ years old at time of application
• Possess a current, non-probationary, and non-restricted valid driver's license
• Possess a Washington State driver's license and maintain such licensure during employment with WSP
• Possess a high school diploma from a state sanctioned and recognized school, GED, or associates or higher from an accredited college
• Pass a medical exam, prior to being hired
• Be willing and able to work weekends, holidays, rotating shifts, and be on 24-hour call
• Be free from the use of narcotics or controlled substances
• Successfully pass a pre-employment polygraph examination
• Successfully pass a thorough background investigation
• Successfully pass a departmental medical examination
• Successfully pass a departmental psychological examination
• Be willing to accept statewide assignments
• Knowledge between right and wrong and demonstrate it by example and life style
• Maintain good personal hygiene
• Pay one's bills and meet financial obligations
Applicant must be of good moral character. Indications of a lack of good moral character include, but are not limited to the following:
• Conduct involving dishonesty, fraud, deceit, or misrepresentation
• Intentional deception or fraud or attempted deception or fraud in any application, examination, or other document
• Acts or conduct that would cause a reasonable person to have substantial doubts about the individual's honesty, fairness, respect for the rights of others, or for the laws of the state and/or the nation
• Conduct that adversely reflects on the individual's character to perform the duties of a trooper
• Any applicant with a history of domestic violence shall be eliminated as an employee candidate at that point in the hiring process per RCW 10.99 and the Washington State Patrol Regulation Manual, Chapter 8.00.320. RCW Mandate – Will apply to all trooper cadet and CVEO applicants
Applicants must possess the following physical abilities, skills, and traits:
• Ability to see, hear, smell, feel, walk, jump, run, climb, lift, drag, carry
• Ability to jump into a vehicle, jump over guardrails, and change a tire
• Ability to shoot a pistol, rifle, and shotgun with either hand
• Ability to distinguish colors and be free from color blindness and night blindness
Must be able to learn and demonstrate the following job requirements after being trained by the department:
• Knowledge of First Aid
• Knowledge of when and when not to use force, up to and including firearms
• Communicate clearly when using radio equipment
• Operate a standard-issue patrol vehicle unaided
• Knowledge of when to use emergency lights and siren
• Ability to demonstrate the proper use of all issued equipment
• Ability to provide credible courtroom testimony
SUPPLEMENTAL INFORMATION:
Compensation:
Trooper Cadets – $4,500.00 monthly base salary. After successfully completing the Trooper Cadet Training, Trooper Cadets are promoted to Trooper and will receive a Trooper's monthly base pay of $5,126.00.
Once a Trooper has reached six months from their commissioned date they will receive the following step increases until they have their fifth year of commissioned service.
Progression Monthly Base Pay:
• 0 – .5 years $5,126
• .5 – 1.5 years $5,433
• 1.5 – 2.5 years $5,759
• 2.5 – 3.5 years $6,104
• 3.5 – 4.5 years $6,470
• 4.5 + 5 years $6,860
• 5-10 years $7,066
Longevity Pay:
After a Trooper reaches their fifth year of commissioned service, they will receive 2% longevity pay every five years of commissioned service.
Read about Shift Differential Pay, Education Incentive Pay, Geographic Pay, and Specialty Pay, as well as Paid Leave Time and Benefits here: http://trooperstories.com/trooper-stories/
The policy of the Washington State Patrol (WSP) is to recruit and provide equal employment opportunities for all applicants. The affirmative action information requested in this on-line application is voluntary and is only used for reporting affirmative action information to the state and federal government.
More than Just a Paycheck!
Employee benefits are not just about the kind of services you get, they are also about how much you may have to pay out of pocket. Washington State offers one of the most competitive benefits packages in the nation.
We understand that your life revolves around more than just your career and that your priority is making sure that you and your family will maintain health and financial security. That's why choice is a key component of our benefits package. We have a selection of health and retirement plans, paid leave, staff training and other compensation benefits that you can mix and match to meet your current and future needs.
Insurance Benefits
Employees and families are covered by medical (including vision), dental and basic life insurance. There are multiple medical plans with affordable monthly premiums that offer coverage throughout the state. Staff are eligible to enroll each year in a medical flexible spending account which enables them to use tax-deferred dollars toward their health care expenses. Employees are also covered by basic life and long term disability insurance, with the option to purchase additional coverage amounts. To view premium rates, coverage choice in your area and how to enroll, please visit the Public Employees Benefits Board (PEBB) website.
Retirement and Deferred Compensation
State Employees are members of the Washington Public Employees' Retirement System (PERS). New employees have the option of two employer contributed retirement programs. For additional information, check out the Department of Retirement Systems' web site.
Employees also have the ability to participate in the Deferred Compensation Program (DCP). This is a supplemental retirement savings program (similar to an IRA) that allows you control over the amount of pre-tax salary dollars you defer as well as the flexibility to choose between multiple investment options.