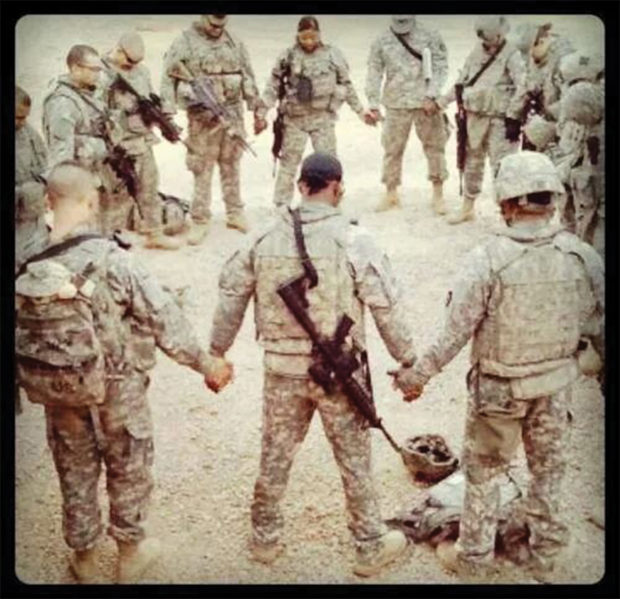 Transitions: A Warrior's Journey to Recovery
By John Roberts

Marco Harrington was a strong soldier. A full-body X-ray revealed several bones that healed from breaks, for which he was never treated. Though these breaks happened in the past and were already healed, the fractures weren't truly felt until the moment doctors discovered them – fractures that would eventually tear apart the final shred of hope Marco had of staying in the military.
Marco is the youngest of six siblings and an identical twin. But of his large family, he was the only to enlist in the military. At age 22, Marco joined many of his friends who had already taken up ranks in the Army National Guard (ANG). He would later marry one of those friends and start a family.
Military service came easy for Marco. As a well-minded youth, he wasn't easily stressed, so he was able to thoroughly enjoy his basic training at Fort Jackson just outside of Columbia, South Carolina. Marco, now military police, was assigned to Grand Prairie Armed Forces Reserve Complex in Texas. Shortly thereafter, in 2008, Marco deployed to Iraq, working entry control points by checking vehicles entering and leaving the base for contraband.
In the next seven years of his enlistment, Marco cross-trained military occupational specialties and held multiple positions as a supply sergeant. It all came to a startling halt on a deployment to Egypt in 2015. Marco started having severe nightmares.
"I woke up and felt like I was having a heart attack," Marco said. "The hospital evaluations couldn't confirm that I had a heart attack, but they also couldn't confirm that I didn't have one. I went back to duty, but it kept happening. Then, one day, we had a physical training test, and I passed out after running."
Marco was shipped out to Landstuhl Regional Medical Center in Germany.
"They didn't know what was wrong," Marco said. "I went through a cardio stress test, and they thought I was having anxiety attacks and had a panic disorder."
Without a firm diagnosis, Marco arrived back stateside to Fort Hood just outside Killeen, Texas. After supervised cardio workouts, the doctors discontinued his regular cardio stress tests believing that Marco had a very strong heart. Their focus quickly shifted to his nightmares.
"They started thinking it was just severe nightmares from past deployments," Marco said. "So they started having me attend group and individual therapy, regular stimulus therapy, and began monitoring my brain activity. They thought stress and everything just finally caught up with me and that my brain sent a signal to my heart to stop."
Marco also began attending group and individual therapy sessions. Ultimately, he was diagnosed with extreme panic disorder with nightmares.
"It got to a point where I couldn't sleep anymore," Marco said. "I was always on edge and uneasy. Still, they wouldn't diagnose me with post-traumatic stress disorder because every time I was in public, I wore a smile. That's just the kind of person I am."
Still, more and more symptoms arose.
"They started seeing other problems with my strength," Marco said. "I'm left-side dominate, but I was weak on my left side. I had back problems, neck problems, headaches – major headaches. I was having so many tests – MRIs and bone scans. Finally, a doctor stepped in and requested a full-body scan."
That scan revealed all the broken bones Marco sustained over the years. He endured corrective surgeries and went through physical therapy, but the fracture already set in his military career. He was determined to be unfit for duty.
In 2016, Marco received a military medical retirement. He left the ANG with a Department of Veterans Affairs (VA) disability rating of 80 percent.
By this time, Marco's wife, Brittany, already made the transition from military forces to the civilian world to take care of their family and was actively involved with Wounded Warrior Project® (WWP). During a dinner with the veterans service organization, Marco and his wife met a WWP Benefits Service teammate who assisted them with securing long-term financial and medical support from the VA.
Veterans with service-connected disabilities are eligible for veterans' disability benefits, which include health care and compensation through the VA. To help injured veterans, their family members, and their caregivers successfully transition to life after injury, the WWP Benefits Service program provides the tools needed to navigate the complexities of the Department of Defense (DoD) and VA. The Benefits Service team works closely with wounded warriors, family members, and caregivers to understand their unique needs, provide information and education on the claims process, advise them of benefits options, file benefits claims, help to obtain necessary evidence, and stay connected with them through the life cycle of the claim.
In April 2017, WWP filed a claim with the VA on Marco's behalf. Three months later, with a confirmed diagnosis of post-traumatic stress disorder and more, Marco received a VA disability rating of 100 percent with more than $17,000 in retroactive pay, backdating to the day WWP filed his initial claim.
"I'm not the same person that I used to be," Marco said. "My injuries have impacted my family and marriage because 80 percent of the time, I'm secluding myself from life. It's hard for family and friends who knew me before to understand me today."
Through the generous support of donors, WWP offers veterans specialized, multi-day mental health programs and services – tailored to each warrior's specific needs and free of charge. One program is its multi-day mental health workshops that are offered as all-male, all-female, or all-couples.
WWP quickly enrolled Marco and Brittany up for a couples' workshop. These workshops provide safe, private environments where warriors and their significant others can express themselves, share their experiences, and set achievable goals to strive toward at home.
"The workshop really prepared me and my wife for transitioning out of the military," Marco said. "We learned that my injury limitations are adaptable, and we can move beyond them. We realized we need each other – that we may not be the same, but we will fight to move past it – become better together."
Since then, Marco participates in other free WWP programs and services like its Physical Health and Wellness program. Through this program, Marco can expend any negative energy through exercise and leave the workout less frustrated than when he began. The payoffs? Getting into a regular workout routine with his family and losing weight. Every day, Marco takes more control of his recovery.
He wants other wounded warriors to know they are not alone.
"I want warriors to know that Wounded Warrior Project isn't just for people missing limbs," Marco said. "WWP is ready to help warriors with visible and invisible wounds – regardless of their situation. If you need help, reach out to their Resource Center and get referrals for the programs and services you need to get your journey back on track."
Marco is among more than 90 percent of warriors who have had successful VA claims processed with the help of WWP. In the first quarter of fiscal year 2017, WWP secured $4 million more in monetary benefits than in the first quarter of fiscal year 2016. Since its inception, more than $200 million in total veterans' benefits has been secured through the WWP Benefits Service program.

About Wounded Warrior Project
We Connect, Serve, and Empower
The mission of Wounded Warrior Project® (WWP) is to honor and empower Wounded Warriors. WWP connects wounded warriors and their families to valuable resources and one another, serves them through a variety of free programs and services, and empowers them to live life on their own terms. WWP is a national, nonpartisan organization headquartered in Jacksonville, Florida. WWP is an accredited charity with the Better Business Bureau (BBB), is top rated by Charity Navigator, and holds a GuideStar Platinum rating. To get involved and learn more, visit woundedwarriorproject.org.