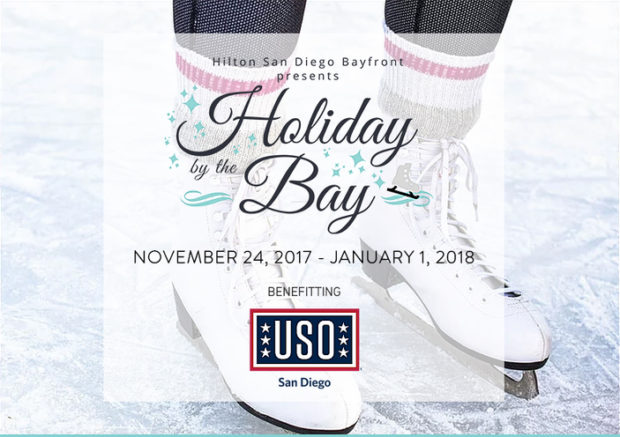 Hilton San Diego Bayfront and Headquarters at Seaport Village Selects USO San Diego as Recipient for Holiday Season Events
This holiday season, USO San Diego encourages all San Diegans to stand together and support the sacrifice of our military service members and their families. This year, USO San Diego is the honored beneficiary of holiday events sponsored by the Hilton San Diego Bayfront and the Headquarters at Seaport Village.
The season kicks off with the 5th Annual Giving Tree Lighting Ceremony on Friday, November 24th at 6:30 p.m. at the Headquarters at Seaport Village's open-air courtyard alongside USO San Diego officials and local military families, with presentation of Colors and performance by the All American Boys Chorus. Guests are encouraged to bring toy donations that will benefit more than 1,000 active-duty military families served through USO San Diego.
Once the 35-foot tree is lit, the internationally acclaimed All American Boys Chorus will perform holiday favorites and Santa will be available to visit and take complimentary photos with children. Free hot chocolate and candy canes will also be available.
On Saturday, November 25, 2017, the Hilton San Diego Bayfront will commence its second annual Holiday by the Bay programming with a Holiday by the Bay ice skating celebration. The Opening Ceremony will consist of the presentation of colors and a selection of Holiday and Patriotic music, along with a special guest, Tammy from KSON's Morning Show, John and Tammy.
The ice skating rink will be open from November 22, 2017 – January 1, 2018. The festive program that benefits the USO San Diego will turn the hotel's Bayfront Park into a winter wonderland. The rink will be the only outdoor ice rink in downtown San Diego for the holiday season and is open to the public and also available for private parties.
"USO San Diego is truly honored to be beneficiary of Hilton San Diego Bayfront and the Headquarters at Seaport Village's kindness and generosity," said Bobby Woods, Interim Executive Director of USO San Diego. Since 1941 the USO has stood by our troops through every step of their service, from deployment to rehabilitation and reintegration. Our organization heavily relies on donations and is especially in need of toy donations during the holiday season. It's important to note that USO is chartered by the Congress, but takes no federal or state funding."
From November 24, 2017 to December 18, 2017, USO San Diego invites members of the community to drop off gifts for children up to 18 years of age and monetary donations for USO San Diego at Geppetto's Toys, Hilton San Diego Bayfront, and the Giving Tree at the Headquarters at Seaport Village. Please specify "USO SAN DIEGO" for any monetary donations to the organization or go on line at www.usosandiego.org.
For addition information on how to contribute to USO San Diego, please contact Sharon Smith at (619) 987-8020, or at sharon_smith@cox.net.
ABOUT USO SAN DIEGO
Founded in 1941, The USO strengthens America's military service members by keeping them connected to family, home and country, throughout their service to the nation. USO San Diego is a premier USO Chartered Center providing morale and support services, as well as a home away from home for all members of the U.S. Armed Forces and their families. For more information, please visit: https://www.usosandiego.org/