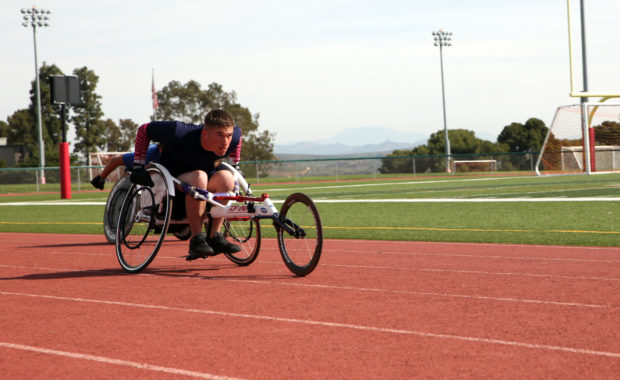 Marine Corps Trials – March 4th – March 15th
As USO San Diego celebrates its 76th year, the organization continues to inspire with its programs and services. This past year alone, USO San Diego served more than 260,000 military members and their families in many ways.
One of our passionate involvements is serving as the lead non-profit organization which is considered as one of the signature annual event for the Wounded Warrior Regiment. The Marine Corps Trials, which take place from March 4 through March 15, 2017 at Camp Pendleton, California, feature the same Paralympic sports as the National Warrior Games: wheelchair basketball, sitting volleyball, swimming, recumbent cycling, shooting, archery, track and field. The training and competition is fierce during the Marine Corps Trials, with athletes vying for top placement in individual and team sports. Participants in the trials include wounded, ill and injured Marines and Navy Corpsmen, medically retired Marine veterans, and international service members.
USO San Diego supports the games by refueling the competitors throughout each day of the training and competition with healthy snacks, fresh fruit, bottled water and sports drinks served by many enthusiastic volunteers cheering them on at each event. Additionally, USO San Diego provides reception services when participants arrive at Lindbergh Field, over 1,600 full meals and thousands of snacks during the event, sunscreen, lip balm and an unforgettable American experience for our allied service members.
Thank you to the following 2017 Marine Corps Trials sponsors: Walter J. and Betty C. Zable, Semper Fi Fund, Deloitte, Grand Hyatt, Coast Produce, North County Corvette Club, Tri-City Medical Center, MOPAR Club of San Diego, Little Italy Association, Sea Breeze Shuttle, Advanced Shuttle, Coca-Cola Refreshments, Boingo Wireless, Camp Pendleton Commissary, COOLA Suncare, The Office of County Supervisor Bill Horn, and USO San Diego Facebook Fans, Leidos, Dana Point 5th Marine, SAIC, Knights of Columbus, Genentech, and Pioneer Services.
USO San Diego also serves as a devoted supporter of Families of the Fallen. The organization helps coordinate dignified transfers at Dover Air Force Base, Delaware – the first stop on American soil for those U.S. Troops who have made the ultimate sacrifice while serving their country. In addition, every Tuesday, USO San Diego and the Neil Ash Airport Center host a dinner for military members and their families. Thursday night programs happen once or twice a month at both Centers and are focused on a unit's families, often during a deployment. In partnership with Feeding America, USO San Diego has a mobile food pantry twice monthly for up to 200 military families.
"USO San Diego provides respite and comfort to grieving San Diego families who are traveling to and from Dover and offers families travel assistance and supports the families' onsite needs," said Nelson. "Our commitment to support troops and their families through every part of their service remains strong during these difficult times."
In addition, last year USO San Diego launched The Norris Support Center for Military Families to help meet the comprehensive health and well-being needs of our service members and their families. The Norris Center offers a wide continuum of support programs for active duty, National Guard, Reserve personnel and their families to provide family strengthening and resiliency.
For more information visit www.usosandiego.org