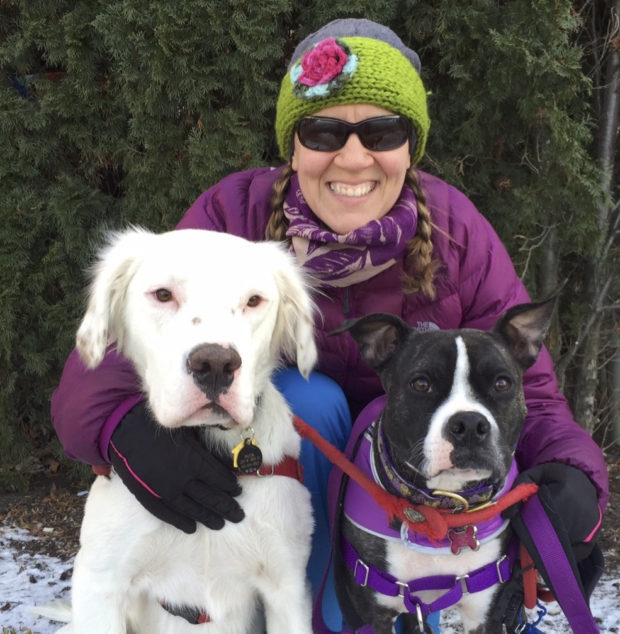 Distinguished Military Veteran Embarks on Trek with Rescued Dog to Honor Military Heroes and Raise funds for Shelter to Soldier
LT Jennifer McCollough (USN) served on active duty as a naval aviator following graduation from the United States Naval Academy in 2001. Jennifer primarily flew the MH-60S helicopter, completing three deployments to the Middle East on various ships and with the U.S. Marine Corps in Fallujah, Iraq. When she learned of the opportunity to win the trip of a lifetime through corporate entity Pet Supplies Plus, she jumped at the chance to tell the story of rescuing a pup named "Rosie" from a highway in Texas, and charted a course to hike from the War Dog Memorial in Holmdel, New Jersey, to Arlington National Cemetery in Washington, D.C., with a stop at the Pennsylvania War Dog Memorial in Bristol, PA. Jennifer, Rosie, and family dog Falcor will begin their adventure on September 3, 2016, concurrently raising funds for Shelter to Soldier, a veteran-related non-profit organization.
Along with two other recipients, Jennifer's winning application was chosen from 2,800 entries as part of the "Path to Adventure" contest sponsored by Pet Supplies Plus in coordination with the launch of their Redford Naturals dog food brand and in partnership with The Sheppard, LLC. The prize package includes a six-month supply of dog food and a GoPro® Hero4 Session camera with FetchTM Mount, along with a stipend to underwrite trip costs. #RedfordNaturals #GOWILD.
In honor of all fallen heroes, canine and human, the trio will conclude their trip at Arlington National Cemetery on September 11, 2016.
Along the way, they will raise funds for the San Diego-based non-profit, Shelter to Soldier, a 501(c)(3) entity that adopts dogs from shelters and trains them to be psychiatric service dogs for veterans suffering from PTS and TBI at no cost to qualifying veterans (http://www.sheltertosoldier.org).
Jennifer remarks, "I was seeking an accredited charity that helps both dogs get out of the shelters and veterans who need help moving forward to lead fulfilling lives. As a former helicopter pilot who returned from three deployments and experienced the loss of multiple friends, I know how meaningful it is to have a dog relying on you to come home, absorb your tears during times of sorrow, and nudge your hand when you need encouragement. Having rescued one dog from the street and two dogs from families who no longer wanted them, I learned how important, yet expensive it is to properly train a family dog. That's why I selected Shelter to Soldier as my charity of choice for this very meaningful civilian mission."
During Jennifer's deployment to Iraq, she volunteered for missions outside the wire assisting in the Iraqi Women's Engagement Program supporting Iraqi women in rebuilding their communities and spent seven collective years as the command legal officer. During her last tour, Jennifer was a part-time law student at Thomas Jefferson School of Law in San Diego, CA, where she graduated with honors in 2013.
Jennifer is currently serving as a law clerk to U.S. District Judge Sue L. Robinson in the U.S. District Court for the District of Delaware and will be joining the U.S. Department of Justice in Washington, D.C. as part of the Attorney General's Honors Program. She also serves as an advocate for Circle Star K9 Rescue, a Texas non-profit organization that rescues dogs from an otherwise uncertain future.
By Eva M. Stimson