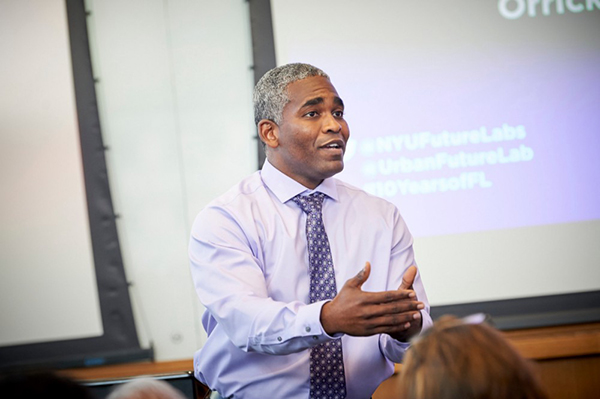 A history of grit. A future of success.
The annual NYU Veterans Future Lab Summit is back — and we've assembled an impressive group of speakers for the must-attend virtual veteran event of the year! Join pioneering entrepreneurs in diverse and exciting industries, top-tier investors who will share their post-pandemic investment strategies, and so much more.
Register now for our free online event and look forward to:
# Inspiration from our new keynote speaker, Paul Rieckhoff, founder of Iraq and Afghanistan Veterans of America, host of Angry Americans, founder & president of Righteous Media, and author of Chasing Ghosts & How to Fight
# Insights from leading investors bringing a spectrum of capital sources to veteran-led ventures
# Lessons and advice from top founders who built impactful startups by leveraging their military experience
# Meeting (and investing in) the next wave of industry-leading veteran-led startups emerging from our Apex incubator program.
Trained in resilience and tackling crisis, veteran entrepreneurs are meeting today's challenges in remarkable ways. If you can' t make it to the Summit, you won't miss it — sign up to receive select recordings. We're excited to celebrate innovation and opportunity at the Veterans Future Lab Summit 2020. See you there!

On Monday, June 29 and Tuesday, June 30 from 10 AM to 2 PM ET, pioneering entrepreneurs from diverse industries and top-tier investors will come together for the Veterans Future Lab Summit to share leadership and entrepreneurial advice designed for veterans. As COVID-19 has created an unprecedented economic situation, the discussion will specifically focus on fundraising and crisis response.
The event will include a Q&A at 10:15am on Monday with Paul Rieckhoff, Founder of Iraq and Afghanistan Veterans of America and Host of Angry Americans, conducted by VFL Director Grant Fox.
Other speakers include Lt. Col. James Hendon, Commissioner of NYC's Department of Veterans' Services, and former Director of NYU's Veterans Future Labs, NYU President Andrew Hamilton and Derren Burrell, President of Veteran Ventures Capital.
The Summit is organized by NYU Tandon's Veterans Future Lab, in an effort to provide vital support to our nation's veterans and their journey to success after their time in service.