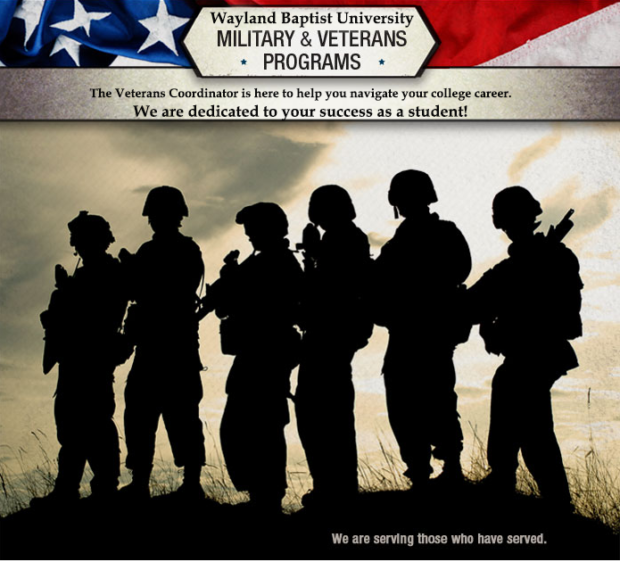 MILITARY EDUCATION
Wayland was among the first institutions in the country to design programs around the needs of men and women serving in the United States armed services.
Military students are a crucial part of the Wayland family. You will find men and women from every branch of the U.S. armed services taking courses at Wayland. Courses are offered at military bases located close to several of our external campuses, from Alaska to New Mexico.
Upon graduation, these students are positioned and empowered to take their knowledge, expertise, and leadership abilities to even greater heights.
Register for Military Education Online
To take advantage of the military education online waiting for you, apply to the AU-ABC program at Wayland Baptist University – one of America's best military education supporting Christian Colleges, today!
MILITARY EDUCATION BENEFITS
At Wayland Baptist University, we firmly believe in supporting the men and women of our armed services as they work to augment their military education with first-rate undergraduate or graduate degrees or certificates from Christian colleges. There are many military education programs, retired military education benefits, and active-duty education benefits, and military education benefits for spouses that military personnel and their families are able to take advantage of as an esteemed veteran or active-duty serviceman or servicewoman in the American military. Wayland Baptist University even offers military education online degrees, because we understand that those who are deployed locally and abroad may or may not have the ability to get to a traditional brick-and-mortar classroom!
MILITARY EDUCATION ONLINE
Wayland Baptist University is proud to offer our nation's finest servicemen and women military education online degree programs to help them achieve their educational and vocational goals as they either continue in the military or transition toward civilian life. Our online military education programs are designed to allow our students to excel beyond their current expertise, and to launch them forward into greater application of knowledge and advancement in their careers.
Military Education Online Benefits
With Wayland Baptist University on your side, online military education benefits are easy to take advantage of. We help you understand and maximize your military education benefits, so that you receive a quality education that prepares you for what they don't teach you in training – through qualified, accredited, teaching and hands-on experience.
Air University Military Education Online
Our Air University Associate-to-Baccalaureate Cooperative (AU-ABC) Program allows Air Force CCAF credit transfer, enabling our USAF students the ability to obtain a Bachelor's Degree with no more than 60 additional semester credits.
Students enroll in the Applied Science major within WBU's Bachelor of Applied Science program. This qualifies as a category one program for all 68 CCAF degree programs.
WBU Meets Military Education Online Accreditation Standards
The following accreditation criteria are met by Wayland Baptist University, and must be met by all AU-ABC programs:
– Specific accreditation standards
– No greater than 60 semester credits post CCAF AAS degree to achieve a bachelor's degree
– Instruction must be deliverable by distance learning (or by in-class instruction – for instance, at Luke AFB in Glendale, AZ)
– Military credit application must be maximized
– Degree programs must be tailored to Air Force specialty
Augment your AU-ABC Military Education Online
Students may augment their Applied Science Degree with other majors in the Bachelor of Applied Science Degree. Other majors in the BAS include:
– Business Administration
– Human Services
– Justice Administration
– Management
– Religion
– Career and Technology Education
Some of these additional majors may be completed in just 60 additional hours, depending on one's AFSC.
Military Education Online General Education Core Classes
Our online military education students will study courses in English, history, computer applications, speech, physical education, math, science, political science, and religious history. Courses taken at WBU, at other universities, or fulfilled through testing by CCAF completion may be transferred into this core section.
Military Education Online Testimonial
Hear from one of our many successful online military education students:
"Wayland Baptist University has enabled me to accomplish one of my career and life goals of attaining a master's degree, the first in my family to do so."
"Since I am in the Navy, I travel quite a bit. It is difficult finding a quality school that has course schedules and programs that are conducive to my dynamically changing schedule. The short terms in-class, supplemented by a couple online classes and a couple of hybrid classes, enabled me to complete my degree with ensuring that I received quality face-to-face instruction and mentoring."
"I now believe that I am much better prepared to transition into the civilian life. I have completed 21 years of naval service and am now eligible to retire and transition to a new career in the business world."
-Charles Bering, HI grad, MAM
Call WBU Admissions: 806-291-3500
Email WBU Admissions: admitme@wbu.edu