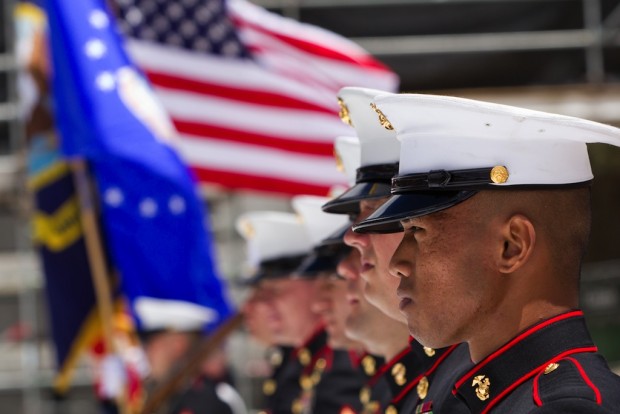 The United States military has some of the best leadership training in the entire world. Veterans leave service with a perspective on leadership and leadership capabilities beyond the majority of their peers who have never served. Each service has their own specific attributes they want their service members to learn and live. The Marine Corps, the place where I truly grew as a leader, has 14 leadership traits, easily remembered by the acronym JJ DID TIE BUCKLE – Justice, Judgment, Dedication, Integrity, Decisiveness, Tact, Initiative, Enthusiasm, Bearing, Unselfishness, Courage, Knowledge, Loyalty, and Endurance (Marine Corps Association, 1988, p. 48). These characteristics are instilled in each Marine and reinforced throughout their career.
All of the attributes are valuable and important, but each leader decides which are most important to him/her and focuses special attention to these "key traits". The top three for me are integrity, courage, and knowledge. Integrity tops my list for many reasons, two of which deal with honesty and trust. A leader with integrity abides by honest principles and instills in his/her constituents a sense of a like mindset. People want to be around, work with, and be friends with honest people. Through honest, trust can be established. Like honesty, trust is a key component of integrity.
It must be established in order for individual relationships and an organization to prosper. Kouzes and Posner (2007) wrote, "Without trust you cannot lead. Without trust you cannot get extraordinary things done" (p. 224). If you have ever worked with or for an untrusting person, you know how difficult it is to have any faith in them or their abilities to lead (or follow). This could be experienced by someone always going back and redoing what you have already finished, or not supporting you in a decision you made if it is ever questioned. Additionally, everyone should remember, no one can ever take away your integrity; you must choose to relinquish it.
Courage ties very closely to integrity in the leadership traits. If you lack integrity, you will lack courage; and the reverse is true. It is hard to stick to your principles if you do not have the courage to do so when they are challenged. We generally think of courage as some incredible act to save a life or complete a seemingly impossible feat. This is physical courage. However, moral courage is displayed with more subtlety on a daily basis by countless individuals. These quieter acts of courage are simply people doing the right things for the right reasons.
They know and understand something must be done and act accordingly to ensure integrity is maintained or justice is levied. Having courage and displaying courage is often a moral duty or obligation. Consider thinking about things in this manner – if it is illegal, immoral, or unethical, don't do it. Sometimes, it is this simple to show the world the level of courage you possess.
The third trait I highly value is knowledge. We should never be satisfied with our level of knowledge on any topic. Especially if it has to do with our livelihood or any particular discipline on which we wish to focus. Knowledge goes beyond reading (although leaders are readers). It involves rational discussion and the willingness to listen to someone else's point of view. As technology changes and advances, we are almost required to continue expanding our base of knowledge through informal and formal education and life in general. A good mantra to remember is, "Never stop learning."
Integrity, courage, and knowledge top my list of key leadership traits, which ones top your list? As you think about the answer and why each trait tops your list, put it in the perspective of a potential job or promotion. Veterans can point out to prospective employers (or current employers when it comes time for promotion) how the leadership they learned and lived during their service can help the organization improve and grow.
If you can provide examples of how your guiding principles will benefit the organization, you may have a better chance of being hired or getting promoted. Take a long hard look at the list of leadership traits for each of the branches of service and figure out how you want to apply these traits to your daily life. When you live by strong guiding principles, doing the right thing is just easier to accomplish, and success follows along with it.
By Christopher W. Diem