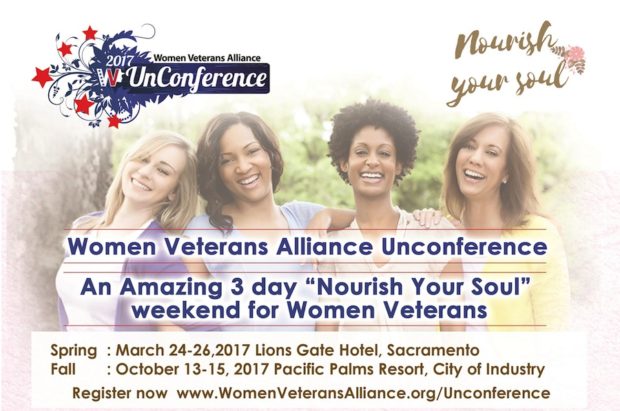 Women Veterans Alliance Unconference
What comes to mind when you hear the term, "Veteran"? Most likely, you immediately form an image of a male. Did you know that there are currently over 2 million women veterans across our nation? That number continues to increase as women serve our nation in ever-growing numbers.
Many of these women don't identify themselves as veterans and as a result are underserved and often unrecognized in the community. Coming to terms with this realization led Women Veterans Alliance to not only be created, but to actively and passionately take on the mission of reaching all women veterans and connecting them, not only with each other, but to the benefits and services available to them. Women Veterans Alliance lives out this mission through events, workshops, our newsletter and our ever-growing network.
2016 saw Women Veterans Alliance hold the inaugural Unconference, in Sacramento, CA. as a means to better serve and support the incredible population of women veterans and those that directly interact with them. This 3-day event was open to all women who had served or are currently serving in any of our military branches; this included active-duty veterans, guard, reserve, as well as their caregivers and spouses. Connecting these women with each other was a powerful experience!
The great success of last year's event opened the door for not one, but two Unconferences for 2017!
Mark your calendars for our fast-approaching spring event in Sacramento, CA., March 24th – 26th at Lions Gate Hotel and our Southern California event this fall, October 13th – 15th at Pacific Palms Resort, City of Industry. Both 3-day events will provide resources and networking for all who attend. Our theme – "Nourish Your Soul", perfectly expresses what we intend to do for these amazing women! Discounted hotel rates are being offered and we encourage all women veterans to attend regardless of location. This is an outreach and experience that should not be missed. Sponsorship/Partnership opportunities are available.
Here's what attendees from last year's Unconference had to say:
"Best women veterans event that I have been to"
"When is the next one?"
"Connecting with my sisters was Amazing"
Unconference March 24th – 26th is set to not only inspire, but nourish and pamper all its attendees. The choice of interactive workshops include:
• Navigating the VA Disability claims process
• Using VA Home Loan to buy or refinance
• Will & Estate Planning
• Organizing your life
• Leadership
• Importance of a professional presentation
• Self care
And more!
Our one-on-one sessions are:
• Will & Estate Planning
• Financial planning
• Resume/Career Review
• Starting a business
Unconference Spring 2017 is honored to introduce our inspirational speakers:
• Nancy Glowacki, Army Veteran
• Kiyo Sato, Air Force Nurse Corps, Veteran
• Ruthie Bolton, Army Veteran
Visit our event page for bios of each of these incredible women and prepare to be touched and inspired by their stories:http://www.womenveteransalliance.org/events/unconference/spring-unconference-information/#spring-speakers
We are also very pleased to announce that James and Mara Morrison of James R. Morrison Photography will make a special presentation of their project,
"What Does A Woman Veteran Look Like?".
Additional services include:
• Kids retreat
• Massage
• Clothing boutique
• Equine Therapy
And more!
Visit our events page to register today: www.WomenVeteransAlliance.org/Unconference and make the Investment in YOU!
To learn more about Women Veterans Alliance, start a chapter or learn how you can better support women veterans, visit our website: http://www.womenveteransalliance.org/