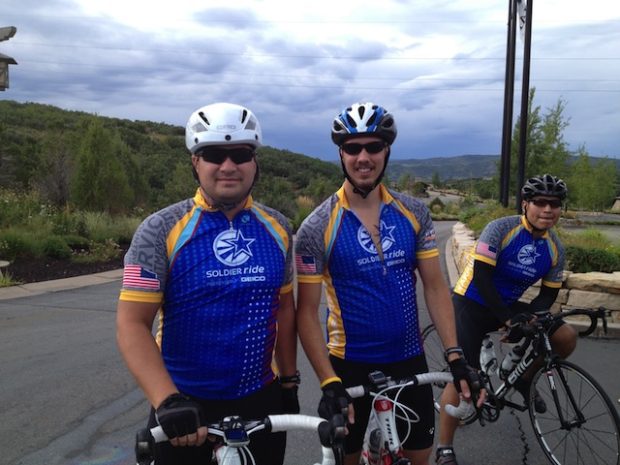 Many quotes and clichés exist about the symbolic importance of a step: taking a step forward, a step in the right direction, stepping back to appreciate the bigger picture – the list goes on. For Army National Guard veteran Peter Webb, the significance of a step is all too real. While deployed in Afghanistan, a single misplaced step led to an injury that ultimately put an end to his military career.
While at the Fort Sill Warrior Transition Unit (WTU), Peter grew frustrated with his declining mobility. Eventually, he reached out to Wounded Warrior Project® (WWP), where he gained a new perspective from the seat of a bicycle during a Soldier Ride® in Chicago. He found a new sense of purpose through the experience, and today he empowers fellow warriors as a manager for the Soldier Ride program.
A Legacy of Service
"I grew up as a military brat," Peter said. "My father was a major in the Air Force, and he served in Vietnam. He retired when I was in middle school."
After graduating high school in New York, Peter wasn't sure what he wanted to do with his future. Like many military brats before him, he decided to continue the lineage of service. At 19, he set out to enlist in the Marine Corps.
"I served in the Marines for eight years," Peter said. "But when it came time for re-enlistment, I switched gears. I wanted to dedicate myself to going back to school, and I didn't get in a lot of studying while I was in the Marines."
Peter joined the Oklahoma Army National Guard, intending to take advantage of a less strenuous career schedule and obtain a college degree. He eventually realized he wanted to pursue a full military career.
"My plan was to spend 20 or 30 years in the military, and I wanted to become a warrant officer," he said.
Checking the steps off the list, Peter obtained the predetermination packet for the warrant officer candidate program. In 2010, his unit was mobilized to deploy to Afghanistan, but he knew once he got home, he could submit the packet, undergo a physical fitness test, and hopefully begin his training. All that stood between Peter and his future was a trip downrange.
One Wrong Step
"Our mission was providing security for convoys and recovering vehicles that had been blown up by improvised explosive devices," Peter said. "I was a machine gunner on one of the security trucks."
His unit was tasked with what was supposed to be a brief, routine vehicle recovery mission – their objective was a short 22 miles away. Rugged terrain and a difficult extraction turned the recovery into a four-day mission. Wanting to keep his weapon battle-ready for the journey back to base, Peter climbed atop the truck to clean his gun.
"I took a step too far back from the top of the truck," he said. "I fell about 12 feet and landed feet-first. The weight of my body armor, helmet, ammo, and rifle – about 90 pounds in all – made the impact so painful that I blacked out for a few seconds. I was still in pain when I came to, but we had a mission to complete, so I crawled back up to my gunner's position."
As his deployment continued, Peter's pain got worse. When over-the-counter medication did little to ease the symptoms, he quickly graduated to muscle relaxers. Before long, his daily routine consisted of a pain pill with each meal – along with cans of energy drinks to combat the medicine's sedative effects. All of this was to make simple activities like putting on body armor manageable. When his command offered to send him to Germany to get an MRI of his spine, Peter declined.
"At the time, we had lost a total of 14 soldiers, killed in action," he said. "Hundreds more were wounded. With other soldiers enduring more severe injuries, I wasn't going to abandon my mission just because of some back pain."
Six months later, Peter's unit rotated back home. Once he was stateside, he finally got the MRI he had been putting off while in Afghanistan. What he had tried so hard to dismiss as a little back pain turned out to be extensive damage.
"My spine had been compacted from the impact of the fall, which caused discs in my back to herniate and put pressure on the nerves running into my leg," he said. "Once I received this diagnosis, I was transferred to the WTU at Fort Sill."
Freedom on Wheels
During his initial months at the WTU, Peter underwent a variety of treatments to alleviate the ever-increasing pain in his back and legs, including physical therapy, chiropractors, and spinal injections. Nothing helped. His most desperate moment came on a chilly March day in 2012.
"I remember the temperature because, at the time, I was soaked in sweat from struggling with the amount of pain I was in," he said. "There was a surging pain running from my hip down to my foot – like someone had stuck a live electrical cord to my leg."
Sitting in his dorm room with his teeth gritted in agony, Peter picked up his combat knife. Holding the blade to his leg, he debated whether it would hurt less just to remove the affected limb and get it over with. A frantic 911 call and an ambulance ride later, Peter spoke with a neurosurgeon who informed him he would need surgery.
"By April, I was limping around the WTU on a walker," Peter said. "On a really good day I might be able to use a cane, but I was pretty much using the walker to get everywhere. It was around that time that a fellow soldier asked me if I had tried riding a bicycle."
With his movement so hindered, Peter thought the suggestion was crazy at first. But he had grown so frustrated with his lack of mobility that he allowed his friend to show him the adaptive biking equipment. Peter rode for a mile on his first ride. The next time he was able to ride farther. He soon realized he was onto something amazing.
Peter's newfound freedom on an adaptive bicycle inspired him to reach out to Wounded Warrior Project and apply to be part of Soldier Ride, a unique multi-day cycling opportunity for wounded service members. His first ride was in Chicago in 2012.
"It was just a complete turnaround from the environment at the WTU," he said. "I was always talking with doctors and case workers who would tell me about the modifications I'd have to make in my life. The focus was on all the things I couldn't do. But Soldier Ride was all about what I could do and what I could accomplish with my new normal. That really inspired me."
Peter returned to the WTU with a renewed sense of optimism. He had found an outlet for his frustration and his pain, and he was determined to keep that feeling going.
"Biking was doing tremendous things for me," he said. "Getting out of the hospital environment and riding into the countryside of Lawton, Oklahoma, I could just clear my head. It was having such a positive impact on my life that I wanted to share it with the other soldiers."
Peter decided to take over the WTU's adaptive cycling program for his work therapy job. By connecting with his fellow warriors over a love for riding, he started to see through the fog of career depression that had loomed over him since his injury. A new direction began to solidify.
"I had been depressed about my military career being over, but I soon discovered that working in adaptive sports with wounded veterans provided me that same sense of fulfillment," he said. "It was then I knew I wanted to work in adaptive sports eventually."
Peter was medically retired in 2014. Around that same time, WWP's Soldier Ride program had some job openings. He applied for every one of them.
Stepping Into a Bright Future
Since May of 2014, Peter has been a manager for Soldier Ride. After nearly three years, he still gets tremendous satisfaction from riding – and from helping his brothers and sisters in arms.
"In the military, I knew what my purpose was, and I kind of lost that when my career came to an end," he said. "This is my new purpose. I feel what we can do for these warriors who are in the same place I was is critically important and impactful. They feel lost, not knowing what possibilities their lives can hold with their new normal. To be the person who opens up those possibilities makes me feel very proud."
Programs like this highlight the importance of managing mental health through physical activity. In a WWP survey of the injured warriors it serves, more than half of survey respondents (51.7 percent) talked with fellow veterans to address their mental health issues, and 29.6 percent expressed physical activity helps.
"We show them that warriors can live an active lifestyle, regardless of what their injuries are," Peter said. "But we're also introducing them to fellow service members who have had similar life experiences. It lets them reconnect with people in their community and rebuild those bonds so they don't feel isolated. We see that with almost every warrior who attends."
As long as there are veterans struggling with the visible and invisible wounds of war, Peter hopes to remain part of the team that leads them from desolation to a place of empowerment. His new role has allowed him to think less about the fateful step that injured him and more about the future. He has encouraged his fellow warriors to do the same.
"In the Marine Corps, we used to think about it like being on a ruck march," he said. "You can't think about the 20 to 30 miles you have to accomplish; you just have to think about that next step. I think the best next step for any warrior struggling with anything would be to reach out to Wounded Warrior Project."

About Wounded Warrior Project
We Connect, Serve, and Empower
The mission of Wounded Warrior Project® (WWP) is to honor and empower Wounded Warriors. WWP connects wounded warriors and their families to valuable resources and one another, serves them through a variety of free programs and services, and empowers them to live life on their own terms. WWP is a national, nonpartisan organization headquartered in Jacksonville, Florida. WWP is an accredited charity with the Better Business Bureau (BBB), is top rated by Charity Navigator, and holds a GuideStar Platinum rating. To get involved and learn more, visit woundedwarriorproject.org.