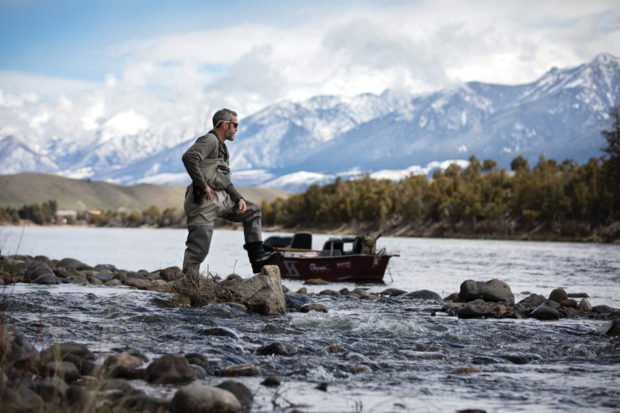 Full Circle: Warriors and Quiet Waters inspires one Army veteran to put down roots in Montana and give back to his fellow servicemen
By: Mackenzie Reiss
Thick, soggy snowflakes fell upon the three fly-fisherman as they crossed the icy waters of the Boulder River. They moved in unison, arms linked together, slowly but surely until they reached a small island in the center of the waterway. Jey Johnson, a 15-year Army veteran, was flanked by local guide, George Anderson and his companion and fellow Army vet, Rodney Thurman.
Over the past four days, the trio had grown close, as was evident by their easy camaraderie during the river crossing. Anderson taught Johnson the active meditation known as fly fishing, while Rodney assisted, ever-ready to lend an ear or a helping hand should the need arise.
When it came to fishing, Johnson proved a quick study. He caught 25 in a single day.
But the five-day fishing excursion, or FX, was really about what happened above the river — not below its surface. Johnson was one of six veterans from all over the country and a variety of branches who participated in the fifth annual Warriors and Quiet Waters FX at Riverstone Ranch — roughly 20 miles south of Big Timber. Each warrior arrived with injuries both visible and invisible to the naked eye. They were selected out of a pool of applicants as the ones whom organizers thought would benefit most from a few days apart from their busy lives, where they could turn all the stressors off, even just for a little while. At the end of the trip, the warriors leave, not only with a pile of fishing gear, but with the tool of fly fishing. The hope is that when they're back home and things get rough, they'll take that tool out and use it.
But fishing, soothing as it may be, isn't an entirely silent sport. In between tying flies and making casts, the men talked.
Sharing came oddly easy with only each other and the river listening in. "I didn't know Rodney before this — I'd like to think I've made a lifelong friend here," Johnson said of his FX companion. "I probably talked to him more honestly than I've talked to anybody in a long time." It makes sense — both of them being veterans, and of the same branch no less.
But war wasn't the only common experience Jey and his companion shared. A year earlier, Rodney was in those very same shoes — full of apprehension when he stepped off the plane, uncertain if coming to Montana was the right move. He too, was a warrior. He too learned to fish on these same riverbanks amongst many of the same people. He too let it heal him.
This year, Rodney returned to Riverstone to give something back to the organization that helped him so much, and to show other warriors that there can be progress no matter how impossible it seems. Rodney comes from a small town in central North Carolina. He joined the Army at 17 and served as an airborne infantryman in the late 80s and 90s. He was stationed in South American where his duties ranged from guarding the Panama Canal to assisting DEA operatives as they tried to rid the jungle of cocaine in the War on Drugs. Jumping out of airplanes is what he loved most. Mission after mission, there he'd be, hanging in the open door of the plane, waiting to hear "Go go go!" from the jump master over the churning roar of the engine. And then all of a sudden he'd be falling to the earth, an adrenaline filled descent to the unpredictable jungle below.
But after four years, Rodney decided a change of scenery was in order — and there was the GI bill to take advantage of. He earned a degree in engineering and worked in that field until two passenger planes crashed into the Twin Towers in New York City. The day after September 11, 2001, Rodney enlisted for a second time.
"After September 11, I couldn't just sit around and watch it happen on TV and I was still young enough," he said. His wife Tracy wasn't exactly in agreement with his decision, but she couldn't hold him back either. Rodney served in the Army's 82nd Airborne Division in Afghanistan, operating in the northeast part of the country and along the Pakistani border where he hunted down fighters transporting suicide vests into Afghan territory. Other times, he would track down caches of weapons or gather intelligence by traveling to different villages, hoping the locals could tell him who was Taliban-involved and who wasn't.
"They would treat you face to face like they were your friends and then they may not be your friends later that day," Rodney said.
His time in country was cut short just a couple of years after he re-enlisted. Rodney and two other soldiers were on their way back to base after conducting a reconnaissance mission. It was nighttime and as they approached the base they saw that it was under attack by Taliban fighters using rockets and heavy machine guns. They weren't able to radio the base as everyone was busy with the firefight, and a luminary round was fired in their direction. It lit up the sky — and their position. The Taliban then turned their fire on Rodney and his soldiers.
"I was simply just trying to get out of the way of bullets and when I did, I ran over the side of a mountain and I fell off the back side of a cliff," Rodney said. "It was probably only 20-25 foot, but when you have a 100 pound rucksack on and you hit head-first into a pile of rocks, it doesn't matter if you have a Kevlar on or not. You're going to get hurt." The next thing he remembered were his buddies rolling him over and gathering his equipment. They were out of the line of fire but the damage was done. Rodney suffered a traumatic brain injury from the fall and a number of his teeth were forced into his jaw bone. He was transported to Bagram Air Base — a bigger location, but not exactly state of the art either. A dentist extracted the remnants of his damaged teeth with just novocaine to dull the pain. Meanwhile, Rodney had thrown up multiple times, courtesy of his head injury.
"As soon as I got back, they said that was it," Rodney said. The compression from the fall caused some of Rodney's discs to bulge out against his spinal cord. His ring and pinky fingers on both hands are paralyzed and he'll pass out if he looks straight up for too long. Rodney considers himself lucky in some ways— at least the paralysis is confined to his hands — but in other ways, less so. When he fell, he didn't just lose one career: he lost two.
Because of his TBI, which made reading and math difficult, Rodney's engineering career also came to a premature end. He was homebound for a long time after that. Places with crowds and loud noises made him uneasy. Something as simple as a trip to Wal-Mart was simply out of the question.
He spent a decade in relative isolation until his wife Tracy discovered Warriors and Quiet Waters. Unbeknownst to her husband, Tracy filled out an application on Rodney's behalf and hoped for the best. When Rodney found out he'd made the cut, he was initially excited — he loved fishing after all — but at the same time, nervous about the plane ride from his home state to Montana.
"It was just very stressful for me to go to something hustling and bustling like an airport," he said. But once he arrived in Big Sky country, the staff and volunteers quickly made Rodney feel at home — and he's been fishing ever since. "From that day on, I've been fly fishing," Rodney said. "I've probably fished 100 days since last September."
He was so enthralled with the sport of fly fishing and the people and beauty of Montana, that Rodney relocated his family to Florence last year.
"I needed to come back here, not just wanted to, needed to," he said. Months after his move, Rodney got in touch with WQW volunteer guide, George Anderson, and asked if there was any way he could help the organization that had given him a new lease on life. He was invited to return to Riverstone Ranch on an FX — this time as a companion. His role would be to accompany his assigned warrior and to help in any way he could — whether that be loading equipment, offering an arm down a rocky bank or simply listening.
"I think that means a lot to the soldiers or Marines coming through, that there is improvement — there can be happiness again," Rodney said. "That's the biggest thing I learned when I came through the FX is it's OK to be happy again, it's OK to have a good time, it's OK to relax — I'd not done that for years. This has shown my improvement to myself, that I can be useful." Now, not only is Rodney helping the next generation of warriors, he's passing his love for fly fishing onto his children. He teaches his three eldest boys how to cast in a horse pasture near their home. And on some evenings, they can be found holed up in the basement with a fly tying kit. Rodney has come full circle. In a lot of ways, the student has become the teacher. But in others, he is still learning. And that's OK too.
"Nothing's perfect — I still get startled at loud noises and I still don't like to be around aggression, but the improvements I've made is I attempt to do that now. I attempt to go to Wal-Mart for my wife, I attempt to go to Costco or I'll plan to go pickup a birthday cake at the grocery store where before I really didn't want to do that at all," Rodney said. "I knew that the only person that could make a change was me. Life's not going to change you, you gotta change your life."
This article originally appeared in the May 4th, 2017 edition of the Big Timber Pioneer. To learn more about Warriors and Quiet Waters, please visit our website at www.warriorsandquietwaters.org.