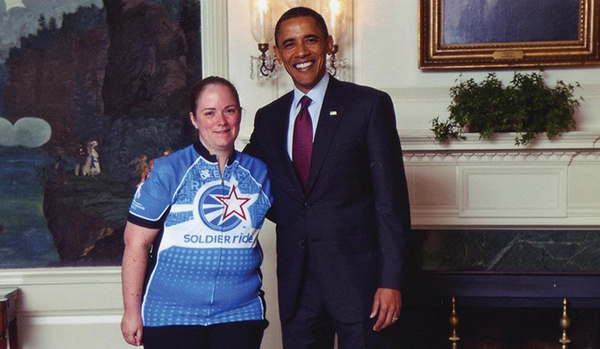 Finding Help and Hope through Give an Hour™
By Erin Timmermans, Director of Military and Family Programs
June is National PTSD Awareness Month, and marks an important time for us to recognize the complexities of trauma and how it can impact those around us, including ourselves. According to the VA National Center for PTSD, Post-Traumatic Stress Disorder became a diagnosis as a result of a number of social movements, including advocacy by Veteran, feminist, and Holocaust survivor groups. Research about Veterans returning from combat was a critical piece of the creation of the diagnosis and treatment. The history of what is now known as PTSD often references combat history, although one does not have to experience combat to experience PTSD.
Post-traumatic stress (PTS) symptoms may include avoidance behaviors, anger, sadness, upsetting memories, feeling of helplessness or trouble sleeping. These feelings are normal biological reactions to the experience of an event that feels life threatening, like combat, a natural disaster, a car accident, or sexual assault.
Post-traumatic stress disorder (PTSD), is a condition that some people develop when the symptoms of PTS do not dissipate in a reasonable timeframe after experiencing or witnessing an event. The good news is there are effective treatments available for PTS, and PTSD.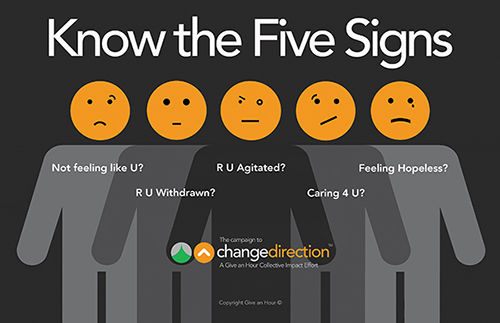 Give an Hour™ empowers a community of volunteer mental health professionals who provide no-cost mental health care to active duty, guard and reserve service members, veterans, and their families- including individuals who experience PTS or PTSD. This free, anonymous option is complementary to the existing government and community support programming. Providers offer one hour per week of pro bono in person, phone or video counseling to anyone who is/has served in the military or anyone who loves someone who has served in the military. To find a provider in our network, visit www.giveanhour.org/get-help and enter your location and a few preferences to connect to providers who are ready, and waiting, to help you.
Much like PTSD Awareness Month aims to change the misunderstanding surrounding the condition, Give an Hour's Campaign to Change Direction aims to change the conversation surrounding mental health as a whole. The Campaign to Change Direction™ is a global public health effort focused on changing the culture of mental health so that all in need receive the care they deserve. The Department of Veterans Affairs, the National Guard Bureau and many Veteran Service Organizations are among the key partners in this effort.
The Campaign encourages everyone to Know the Five Signs of Emotional Suffering including: personality change, agitation, withdrawal, poor self-care, and hopelessness. Those who see the signs of emotional suffering in themselves or someone they love, are encouraged to reach out and seek – or offer – help.
Visit www.changedirection.org to join us or learn more about existing tools to promote mental health literacy.
Sarah Bonner
Giving support to service members and veterans.
Sarah Bonner is a veteran and mental health advocate. After two years of college, Sarah joined the United States Air Force to utilize the job training and education benefits, travel, and challenge herself physically and mentally. Sarah had many reasons for joining the military, one of which was following her father's legacy of service. Sarah's father served in the United States Navy, Active Duty and Reserve.
Sarah recalls the moment she decided to join the military: "The September 11, 2001 attack on the World Trade Center's, Pentagon, and Pennsylvania, hit home with me since I grew up in New Jersey and had visited several times. I remember coming home from school at 12 years old to learn of the first attack and deciding then to step up and do something purposeful to help"
While stationed in Germany, Sarah assisted the injured troops who were medically evacuated. Sarah also volunteered with the local USO chapter. During this time, Sarah survived being sexually and physically assaulted. She also developed Lymphedema in both of her feet and legs. Sarah was medically discharged and returned to her family in the states. "The transition was very difficult and I felt very depressed. I also realized I needed to seek treatment for the trauma I endured while serving; which ultimately led to my PTSD diagnosis."
Sarah began treatment with her Give an Hour provider, and decided her next mission would be a continuation of support to service members and veterans.
Graduating with a degree in Social Work, she took her first steps towards her new goal. In addition, Sarah is a Peer Mentor with the Wounded Warrior Project, a fellow alumnus with The Mission Continues, a member of Team Red White & Blue, and involved with Ride 2 Recovery.
Sarah credits her healing to the support she has gotten from these organizations, her family and friends, physical fitness, community service, and bike riding.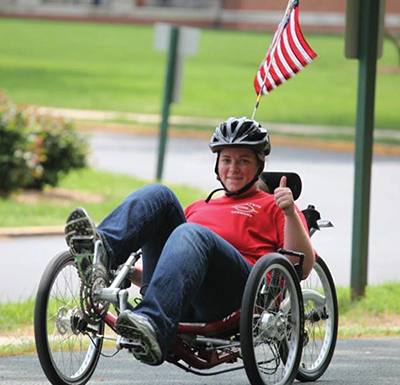 Sarah continues to experience symptoms of depression and PTSD, but remains committed to her recovery, with the help of her Give an Hour Provider. She plans to open her own nonprofit to assist military service members and veterans and families with making healthy transitions from the military to the civilian world. Sarah also hopes to join Give an Hour and give back once she becomes a Licensed Clinical Social Worker.