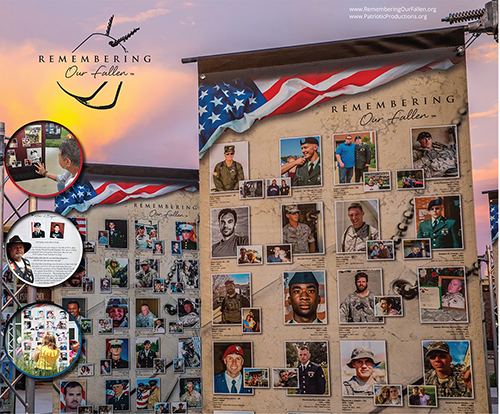 9/11 was a defining moment for many Americans who have served in The War on Terror, like Pearl Harbor was for those who served in World War II.
Remembering Our Fallen is a war memorial that includes our nation's military Fallen since 9/11/2001.
It was inspired after reading an Omaha World-Herald article in September 2010 about Lonnie Ford, a Gold Star father, who felt that his son, SGT Joshua Ford, had been forgotten.
Traditionally, our country must wait at least ten years from the end of a war to create a national memorial. With no end in sight, we wanted to do something.
To help lessen the grief of the families of our nation's Fallen and minimize their fears of their loved ones being forgotten, Remembering Our Fallen was created to: reassure families that their loved ones will not be forgotten; help others to remember and speak their names; educate Americans of the tremendous cost paid for our freedom.
Thirty-two Tribute Towers include military and personal photos of over 5,000 Fallen. Included are several Tribute Towers to recognize those who died from non-combat deaths and those who struggled and lost the battle of PTSD.
Prior to creating the national memorial, state-specific memorials for indoor display were completed and have continued to travel their respective states since 2011.
Please visit www.RememberingOurFallen.org to
Add a Fallen Hero; View the Photo Gallery;
Bring Remembering Our Fallen to your Community;
or to make a Donation to support additional Tribute Towers and the Tour.
Gold Star family members have said, "I'll probably cry at the sound of his name, but if you don't mention him, the tears will still come and I'll fear he's been forgotten."
We hope this memorial will help to alleviate this fear.
Please contact us to add a Fallen loved one, host
the memorial, or make a donation at:
info@RememberingOurFallen.org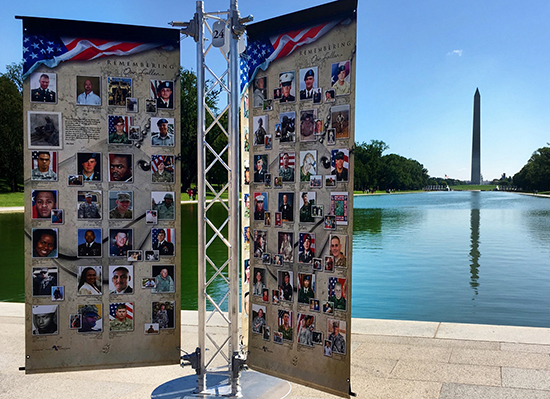 See article at > https://issuu.com/adminhlm/docs/homeland_sept_2019/12