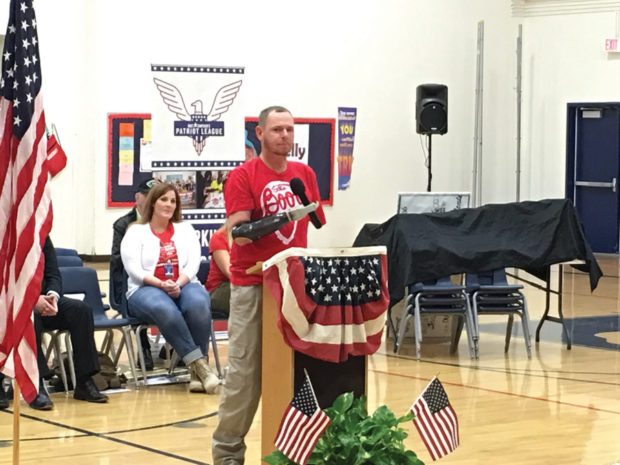 Medically Retired U.S. Marine, Inspired By Chris Kyle Meeting, Believes Speaking Honestly Is The Best Medicine
By Barry Smith
Boot Campaign
Public speaking obviously is not an easy task and ranks among the world's most common fears. For those who do speak publicly, many prepare quite extensively by writing note cards or scripts, creating fancy PowerPoint presentations, and even using a teleprompter. Then there are other speakers who use no notes, props or tools of technology whatsoever, and they do not even know what they will say or how they will say it until the moment comes.
The latter example fits the speaking style of Odessa, Texas native and 12-and-a-half-year veteran Marcus Burleson, a U.S. Marine staff sergeant and explosive ordnance disposal (EOD) technician, who spends a significant amount of his retirement sharing the story of his award-winning military career to audiences of all kinds.
"I've talked about my story probably 100 times, but I've never stopped to write any of it down," Burleson explains. "Every time is different. I've always tried to kind of judge the room, and then base my approach to how I wanted to tell my story based off what I felt from the room. I feel like I get a better reaction and connection with the people whenever I do that, as opposed to going out there with some cookie cutter stuff that I'd already written down."
Even if he is speaking to a gym full of junior high school students about patriotism, he has found brutal honesty to be a winning approach to getting and holding an audience's attention and to make sure his message is heard.
"When you stand up there, just rip it apart, lay it out there and be honest with them," recommends the Boot Campaign Veteran Ambassador, a Navy and Marine Corps Achievement medal and Purple Heart recipient. "If it hurts it hurts, and if it doesn't it doesn't, but be honest because they can tell. You know they can tell because if everyone in the room believes you, you can hear a pin drop. They are listening and focused because they can feel it. What this dude says he means. It's not just BS. It's real. That gets people because we don't often get that honesty anymore."
Although his grandfather served in World War II and three of his uncles served in Vietnam, all as members of the U.S. Army, Burleson was not planning on a career in the military after graduating from Odessa Permian High School. He enrolled in Odessa College and was pursuing a degree in education before tragic terrorist attacks occurred on American soil on Sept. 11, 2001, giving him the encouragement and sense of duty to forego his studies immediately and enlist in the military like many young patriots of his generation.
Burleson garnered his first duty assignment in Kaneohe Bay, Hawaii with the third Marine regiment, where he spent three years before being assigned the next three years to Marine Corps Air Station Yuma in Arizona, with Marine Aircraft Group 13. With six years under his belt working mostly as a supply clerk in property accounting and finance, Burleson felt he was ready for a change after experiencing his first deployment as part of Operation Iraqi Freedom.
"I was finally able to get myself on a deployment to Iraq, and there I was able to see things a lot more clearly," says Burleson. "I got to see how things really operated outside of the training environment, and I felt more attached to the military then than I ever did before. That's kind of when I decided I needed to be a bigger piece of the puzzle than I was."
Almost immediately upon his return to the States in 2007, Burleson began training for one of the most dangerous roles in the military by enrolling in Explosive Ordnance Disposal (EOD) school. "I got a chance to interact with the EODs on my deployment to Iraq," he recalls, "and absolutely fell in love with the camaraderie that they had."
The change was just what he was looking for, and after two years of training and a few minor assignments he was deployed to Afghanistan as part of Operation Enduring Freedom in October 2011. What he was not prepared for was what happened just two months into this deployment.
On Dec. 9, 2011, while working as a team leader for an EOD squad attached to the 31st Georgian Battalion, he was part of a group conducting dismounted operations just outside of Sangin, Afghanistan when their patrols encountered a pair of improvised explosive devices (IEDs).
"As a team leader, we take what is known as the long lonely walk," confides Burleson. "Everybody else bunkers down and takes cover, and you expose yourself, as the senior leader of the team, to the danger. It was my job to clear the path. I had already taken care of the first device, and while attempting rendered safe procedures on the second device, it detonated with me over the top of it and resulted in catastrophic injuries."
Suffered life-threatening wounds to multiple organs and losing both arms, Burleson was rushed to Walter Reed National Military Medical Center in Bethesda, Md., where he spent the next 27 months as the start of his lengthy, ongoing recovery. He medically retired three months later in June 2014.
While spending more than two years in the hospital, he was visited by many individuals representing groups and organizations, but it was one visit in particular that stood out among the others. He was visited by fellow Odessa, Texas native and retired U.S. Navy SEAL Chris Kyle, the author of the New York Times Best Selling book "American Sniper," on behalf of Texas-based Boot Campaign.
Burleson says his meeting with Kyle happened very early on in his recovery efforts and it did not have the impact right away that it ended up having in the long run.
"Chris did something very different, very unique, and it stayed with me for a long time," remembers Burleson. "It started becoming more evident the more time I spent in the hospital and the more visitors I had. Most of these people would show up at the hospital and they always had an agenda. It was a recurring theme. They were never just there to say, 'Hey!'
"Chris didn't do that," he continued. "Chris wasn't there just because Boot Campaign asked him to be there, but Chris just did it because he thought it was the right thing to do. He didn't walk in there and boast about Boot Campaign or his book or anything else. He just came in, pulled up a chair and was like: 'What's up Dude?'
"The guy spent a couple of hours with me and it was the first normal conversation I'd had in months, and pretty much the only one I was going to have for the next year," he adds. "The more time went by, the more people came in, the more that conversation stood out for me. And it really made me willing to give Boot Campaign a shot as an organization I could work with."
Following his exit from the Marine Corps, Burleson was instrumental in retooling Boot Campaign's first internally administered assistance program, the Military Recovery Fund (MRF), as its program coordinator. Burleson just recently went through Boot Campaign's new ReBOOT pipeline. He continues to serve his country post-military service as an advocate for service members and veterans, speaking at numerous local and national events, giving live media interviews, and lending his support to a variety of military-focused non-profit organizations like Boot Campaign, as well as the Yellow Ribbon Fund, Veterans United, and the Wounded EOD Warrior Foundation, among others.
"Speaking is something I absolutely want to continue to do, and it does mean a lot to me," admits the father of three and current resident of Dublin, Texas, who also enjoys off-roading and hunting wildlife for his dinner during retirement. "It's one of the few times I truly feel like we are able to communicate our message in an honest manner and in a manner that people can actually connect with and understand. We get to shut everything down for a few moments and share something special, tear open those wounds, emotions and physical scars, and just live it out on stage right in front of these people. We get a chance make a difference in these people's lives."
With Veterans Day coming up in November, Burleson is well aware that most civilian Americans do not understand the true meaning of the holiday or the sacrifices the men and women in uniform are making every single day on their behalf. However, he says he is okay with that.
"It's kind of a double edge sword," interprets Burleson. "As veterans these holidays mean something very different to us than they do to everybody else. The fact that 99 percent of 300 million people in the United States of America don't know what we know and don't feel what we feel is not a bad thing. That's an absolute luxury.
"That one percent is willing to stand up and take on that fight for them, so they never have to know those sacrifices or spend those sleepless nights remembering the people that were left behind, that's okay," he clarifies. "Actually, I kind of like the fact that they don't have the same understanding we do. It makes me proud to have served, and to have stood that line to protect them from that because it sucks. Nobody wants to feel what we feel. These are not happy days for us.
"This year on Veterans Day I will get together with my family," Burleson reports. "We take our time, make up some good food, and just try and celebrate the day. That's what life's about, celebrating tomorrow. We can't get hung up on what happened yesterday. Tomorrow is going to come whether we like it or not, and we better be ready for it."
Learn more about Boot Campaign at www.BootCampaign.org.